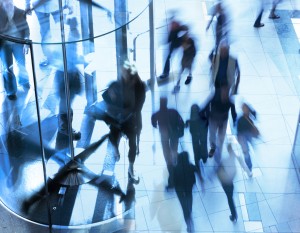 Stories of conflict of interests among top European Union officials are becoming all-too-frequent headlines in the news.
The problems have largely sprung from the so-called revolving door that has been created in Brussels as officials exit public service and quickly enter into the charge of business. The EU capital is not alone in having a constant movement of individuals back and forth between public office and private companies. London, Washington, DC and other policy-making centres around the globe have seen this trend emerge and the blurring of the line between public office and private gain.
From an anti-corruption perspective, the revolving door phenomenon poses risks of undue advantage and using insider information in the new position to the detriment of public interests. Moreover, perception of favouritism and suspicions of bias can diminish public's trust towards government — something that has already become a concern across the EU.
Luckily, the existing Code of Conduct for EU Commissioners — criticised for its vague provisions and the lack of teeth in effectively preventing conflicts of interest — now seems to be up for some major changes.
In early November members of the European Parliament threatened to withhold allowances paid to former EU Commissioners until changes were made to the Code of Conduct. In addition, reportedly more than 50 thousand people have signed an online petition, urging the Commission to close the revolving door for ex-Commissioners after stepping down from their public duties.
The new rules presented to the European Parliament are to introduce some important changes. It is envisaged to prohibit former commissioners to lobby other commission members or those involved in their former area of concern. It is also planned to broaden the scope of conflict of interest to include the ownership by commissioners of shares in companies and other possible non-salary revenues. Finally, a new Code of Conduct is intended to also require commissioners to make annual submissions of declaration of interests. The Commission's Ethical Committee would be expanded and make their findings public. However, it is still not clear if and what kind of sanctions for non-compliance would be put in place and whether other forms of lobbying by former EU officials would be targeted.
A recent working paper prepared by Transparency International explores a number of these proposed measures as effective solutions to mitigate the risks posed by the revolving door. Examples from Canada, US, UK and Brazil show the need to address who is covered by the law, the duration of cooling-off periods, the creation of oversight bodies and the use of enforcement mechanisms, among other areas.
Let's hope that the EU is listening to these suggestions.