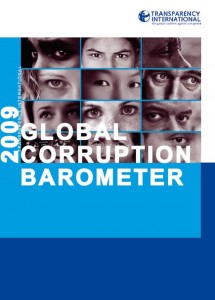 Have you paid a bribe in the previous 12 months? This is one of the multitude of questions Transparency International asked more than 73.000 people in 69 countries to address, in the 2009 Global Corruption Barometer, published today, 3 June.
The Barometer is a global public opinion survey that looks at perceptions and experiences of ordinary people related to corruption. It asks people which institutions are perceived to be most compromised by corruption, their views on the private sector and of the effectiveness of their government's attempts to fight corruption. The survey draws attention to the damaging effects corruption can have on everyday lives. The results are sobering.
Worldwide, more than 1 in 10 people reported paying a bribe in the 12 months prior to the survey. In Cameroon, Liberia, Sierra Leone and Uganda, this number amounts to more than 50 percent of respondents reported having to pay a bribe.
These are the numbers. But how does this relate to you? We wanted to hear the stories behind the numbers, and the impact of corruption in your life . Prior to the launch we have asked you to share with us your personal experiences of bribery. What we received from you were some very personal stories that had one aspect in common: frustration. When reading through your comments, it becomes clear that as a victim of corruption you quickly feel frustrated and helpless when trying to do something about it. And corruption can find root everywhere, whether it is when having to pay a bribe to receive your vital medication or medical attention, applying for a passport or driver's license, or simply trying to open a flower shop.
In the Global Corruption Barometer, we also asked if people filed a complaint after having to pay a bribe. And only one in five did so. When asked why they did not present a formal complaint, every second Barometer survey respondent responded that it would not have been futile. Every fourth respondent felt the process would have taken too much time, while every fifth, were even afraid of reprisals as a result of their complaint. In my view, this is a depressing result and a warning call to governments, companies and civil society organisations to ensure that functional and effective mechanisms are in place.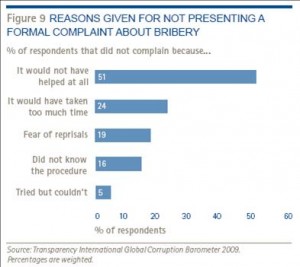 One place for victims of corruption to turn is one of the over 40 Advocacy and Legal Advice Centres worldwide, run by Transparency International's national chapters in a growing number of countries around the world. The Centres educate citizens about their rights and avenues for legal recourse, and provide legal advice on pursuing corruption complaints.
The Centres educate citizens about their rights and avenues for legal recourse, and provide legal advice on pursuing corruption complaints. The results of the Barometer clearly show the need for more of these contact points and mechanisms in more countries.
Here are the other key results coming out of the 2009 Global Corruption Barometer:
68 percent of respondents saw political parties as corrupt, and 29 percent saw them as the single most corrupt institution in their country. The civil service and parliament trailed political parties, perceived by 63 and 60 percent of respondents respectively as being corrupt. Half of respondents said they saw the private sector as corrupt, an increase of 8 percentage points over five years ago.
In roughly a fifth of the countries and territories surveyed, including countries home to some of the world's major financial centres, such as Hong Kong, Luxembourg and Switzerland, respondents identified the private sector as the most corrupt institution.
Across the board, low-income respondents were more likely to be met with bribe demands than high-income respondents
Only three in ten respondents believed their government's efforts to fight corruption were effective, although opinion in Sub-Saharan Africa was notably more positive than in other regions.
The complete report is available here. Do also have a look at the press release, and the In Focus section on Transparency International's website, summarizing the results. Information is also available in Spanish and French.
How do you see the findings? Let us know.