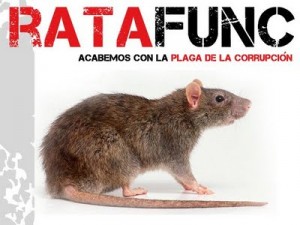 While the word "rat" has not yet made it into Transparency International's recently launched Plain Language Guide, Participación Ciudadana, TI's chapter in the Dominican Republic, is making quite a fuss about the fuzzy creatures.
Together with a few other NGOs, this very active organisation decided to pursue public good through a mass fumigation march, with the aim of calling for the elimination of what they deem the "Public Rat" or even more fun in the original Spanish invented word: "Ratafunc".
The Dominican Republic, which will go down in the history books as playing host to possibly the largest bank fraud in Latin America (influence peddling included), has got to tackle the corruption challenge. For juicy reading on not only the historical bank fraud but additional ones – as if such a poor nation could afford to fall victim to a series of fraudulent acts in the billions of dollars – read the report on the chapter website. The island-nation, which occupies the greater part of Hispaniola, has a score of 3.0 out of a possible 10 in TI's 2008 Corruption Perceptions Index.
This week, Participación Ciudadana is hosting a discussion on clientelism and nepotism, to help ensure proper implementation of a law regulating these areas. The battle against the "Ratafunc" goes beyond the streets of Santo Domingo and we wish our friends lots of luck with the fumigation.