The following post was written by John Uniack Davis, Country Director for CARE International in Madagascar. We have put together more information on the new handbook in this special section on our website.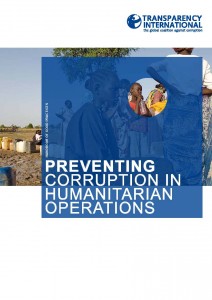 Humanitarian NGOs have a social contract with donors and the grassroots populations with whom they work. Emergency workers are stewards of scarce funds – We are entrusted with resources in order to use them in the most efficient way possible to better the lives of those affected by disasters. Transparency International's brand-new Handbook on Preventing Corruption in Humanitarian Operations is a great tool to help use scarce funds efficiently to achieve the greatest impact for the greatest number. CARE International (along with six other major international NGOs) has signed on to this important initiative and participated in the Handbook development, as we believe that it will be a useful tool for reducing the risk and pernicious effects of corruption in humanitarian programming.
The TI Handbook is organized around a series of practical topics, including targeting of beneficiaries, procurement, finance, human resources, and the like. For each topic, the authors describe the nature of the risk of corruption, as well as a number of "red flags" that can tip one off to something fishy. The Handbook is a very-user friendly reference and is not intended to be read cover-to-cover. Rather, it is to be consulted as needed to improve performance on specific topics. It provides concrete, actionable recommendations on how to reduce corruption risk while under time pressure to produce quick results. My colleagues and I at CARE Madagascar are already using a draft version of the Handbook and we look forward to the final version.
In a perfect world, all aid workers would have great integrity and be guided by their best instincts in implementing programs for those most in need. Each and every one of us would take seriously our accountability to local communities and to the donors providing the wherewithal to get the job done. Unfortunately, experience shows that emergency programs experience the same corrupt practices as other fields. Moreover, given the haste with which emergency programs have to get up and running, controls on the use of funds are often a bit less rigorous than in development programming, when organizations have more time to build a foundation for rigor and transparency. Thus, as stated in the Introduction of the Handbook, "There were numerous examples of corruption during the massive Asian tsunami humanitarian response, and examples of substantial diversion of aid resources have been reported recently in Afghanistan, Iraq, Liberia and Somalia."
Given the challenges, the TI Handbook is a great collection of tips of what to look out for in humanitarian situations. Emergency professionals at all levels should have it at their fingertips when responding to man-made and natural disasters. This will permit them to get the best bang for their buck in saving lives and helping victims return to normal lives as quickly as possible. Mobilized humanitarian workers should stuff the planned "pocket book" version in their cargo pants as they board planes and Land Cruisers to mobilize to the epicenters of suffering.
The unfolding tragedy in Haiti is a timely and moving reminder of the high stakes we face. The TI Handbook on Preventing Corruption in Humanitarian Operations can help us make sure that the giant sums being injected are used well and for the greatest good. While Haiti is an extreme example of a huge humanitarian disaster, the Handbook is practical and useful for emergency professionals at all levels in a wide array of disasters. I highly recommend it.