Today is Anti-Corruption Day, created in 2003 by the United Nations to raise awareness of corruption and of the role of the UN Convention against Corruption in combating and preventing it.
But when we refer to corruption, what do we talk about? What does it mean for people's lives?
Looking at it closely, we don't talk so much about corruption. We talk about the very practical and real, but often silent effect corruption has on our lives. How, in so many ways, corruption can hurt us, everyday.
Let's take access to education, particularly in poor countries. A report we launched at Transparency International (TI) this year looked at corruption in the education sector in seven African countries, where meeting the Education for All goal by 2015 is still a long way off. The Africa Education Watch report shockingly showed that although primary education is supposed to be free of charge in all the countries surveyed, 44 per cent of parents said they had paid fees. Just think how corruption affected the parents who couldn't afford to pay. Just think how it disadvantaged their children.
And when looking at the devastating humanitarian catastrophe this year in Haiti and Pakistan, we have to make sure that monies are not siphoned off and reach the people that are the most vulnerable, most in need, and save lives.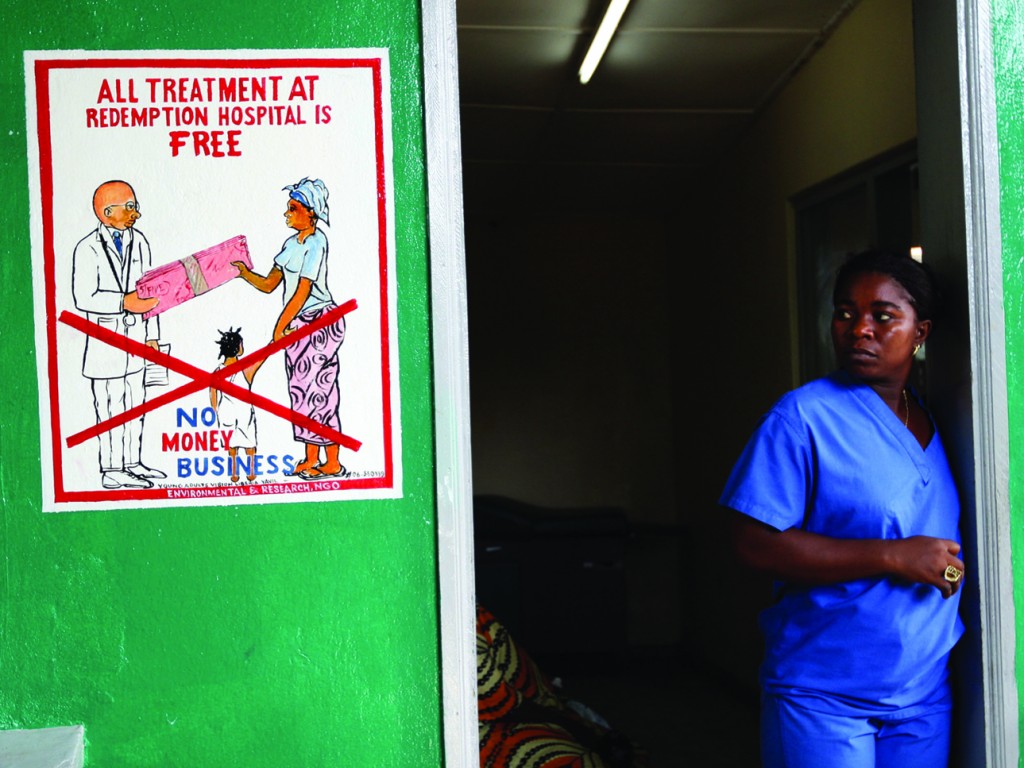 And when we look at healthcare, the effects of having to pay a bribe for a service that one should be entitled to could take a deadly turn if the money is just not there to pay. On a more international level, corruption can undermine international efforts to combat deadly diseases such as HIV/AIDS.
So Anti-Corruption Day is about ensuring a place at school, medicine that works, clean water to drink, and of course, a fair market environment where bribery does not distort the chances for a business to get a contract or where keeping your license to run a shop does not depend on paying a bribe to the right person.
Let's have a look at what people say. Not surprisingly many have little trust in the institutions that are supposed to help and protect them. TI's Global Corruption Barometer, released today is a public opinion survey that covers people's experiences and perceptions of corruption in their country. The results show us that people do not trust their governments to fight corruption. It also shows that poor people are more frequently penalised by corruption, especially when they try to get basic services such as water or electricity, or when trying to get access to healthcare or the education system.
One out of four people worldwide said they paid a bribe in the past 12 months for one of nine public services.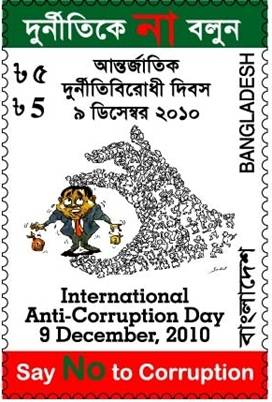 The good news, and I think this is really very good news, is that people are willing to engage in the fight against corruption. More than two thirds of those surveyed believe that people can make a difference. And about half of all people that were asked could imagine themselves becoming involved in the fight against corruption.
So Anti-corruption Day provides a great opportunity for people to raise their voice against corruption. You are not alone. There are people around us that are eager to stand up and demand a life without corruption, a better life.
Here's some of the activities our chapters around the world are organising and that you can join. Are you organising any events or activities as well? Just add them in the comments!
In Bangladesh, this year's activities will take place under the motto: We want Good Governance & Equal Rights of All – We want Effective Control of Corruption. It includes a national cartoon competition, a national debate competition for university and college students on environment and corruption, the release of an anti-corruption stamp as well as many other activities on a local level.
The Colombian chapter is launching the 2010 edition of the National Index on Corruption with a discussion event on Anti-corruption Day, while Etica y Transparencia in Nicaragua will open a three-day long exhibition of an a painting competition on the effects of corruption. Proética in Peru will have a booth in Park Kennedy, Lima.
Participación Ciudadana in the Dominican Republic will issue a National Integrity Award to recognise the anti-corruption commitment and work of a Dominican citizen.  Similarily, TI USA is holding a National Integrity Awards gala dinner.
TI Fiji is holding a memorial lecture in conjunction with the University of the South Pacific, while in Vanuatu the chapter organises a corruption drama competiton and will display anti-corruption posters.
The German chapter is organising a day-long conference conference on prosecuting corruption. In Hungary, an afternoon event in Budapest will focus on the protection of whistleblowers. In Ireland a public event will look at "Cleaning up Irish politics", providing an opportunity to discuss the decline in public trust in government and politics in Ireland and explore some of the solutions to this decline. TI's chapter in Switzerland has organised a series of lectures in three cities in Switzerland (Bern, Zurich and Basel).
TI Indonesia will co-organise an anti-corruption music concert on Saturday 11 December in Jakarta with bands such as Pandji, J-Flow, Efek Rumah Kaca, PADI, Respito.
In Kenya a series of events are happening around Anti-Corruption Day, from tv and radio shows, to processions and film screenings, as well as an outreach day for the chapter's legal advice centre as part of a public rally.
A publication will be presented to the public in Riga, Latvia: The "Step by Step to a Responsible Politics in the Parliament: Voter`s and Parliamentarian's Handbook"
Morocco will celebrate the day at the National Library in Rabat with a series of artistic activities and meetings.
A nationwide programme has been organised in Nepal under the motto "Promote Good Conduct: Make Anti-corruption Campaigning Successful".
In Moscow, Russia, an Open Day will take place at the Laboratory for Anti-corruption Policy (PUL AP) in the afternoon.
Talk to the Executive Director of Integriteta in a chat caried out by the Slovenian Radio Multimedia centre RTV SLO.
Please join, please spread the word.
Photo: © Tugela Riddley/IRIN: Redemption Hospital, Liberia