The Guardian just published this on their "FIFA in crisis" live blog:
Transparency International, the global anti-corruption organisation, has joined the Football Association in demanding Fifa postpone the uncontested election that will extend Sepp Blatter's presidency to a fourth term.
Sylvia Schenk, a lawyer and former senior executive of the International Cycling Union (UCI) has called for a full investigation of the corruption allegations that have beset football's world governing body.
"Free and fair elections cannot take place when there is a suspicion that voters may have been swayed," said Schenk, who acts as TI's senior advisor on sport, in a statement. "Two major figures in football politics have been suspended recently for alleged vote-buying. Fifa delegates know that they must clean house if their vote is to have legitimacy.
"All eyes in world football are upon the Fifa delegates. Fifa should be setting a better example to its billions of supporters and especially to young fans that look to the sport for inspiration and role models.
"Because the proceedings of Fifa's ethics committee have thus far been shrouded in secrecy, the investigation should be carried out externally to guarantee impartiality, transparency and accountability."
Like the FA's chairman, David Bernstein, TI has called on Fifa to set up an "empowered ombudsman" to oversee its activities from an independent perspective. Schenk believes there should also be strengthened auditing and transparency regulations, while reviewing its existing ethics code.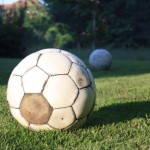 TI clearly understands how the lack of accountability required of associations in receipt of Fifa's central development funds can be a powerful electioneering tool.
Yesterday at Fifa House Blatter came under fire from international media for handing US$1m to the Concacaf confederation for development projects of its own choosing only four weeks from the presidential election. At that time it was due to be contested by the Asian Football Confederation president, Mohamed Bin Hammam, who has since been suspended.
TI has also called for "compliance clauses for all contracts, including FIFA's financial support for member federations," as well as a "review [of] the tender and awarding procedure of events as well as TV-rights and sponsorship contracts."
Read more on TI and football on our website and on the blog.
Photo credit: flickr/beefy_n1