Transparency International's Annual Report highlights work from more than 100 countries around the world. The following extract looks at what TI chapters are doing to keep spending on government services clean and transparent.
Trillions of dollars are spent every year worldwide on publicly funded projects – everything from schools and hospitals, to roads and bridges, to power plants and dams.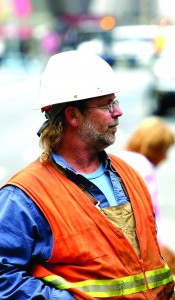 Corruption in any of these processes increases the cost of services to citizens, reduces the quality of work or services, and ultimately erodes people's trust in their leaders.
A 2010 survey by our chapter the Trinidad and Tobago Transparency Institute reports that corruption is endemic in the country's construction industry. More than one quarter of respondents said corruption costs them about €100,000 per year.
More than 40 per cent of government agencies in the Dominican Republic do not comply with public procurement laws, according to research by our chapter Participación Ciudadana. To improve the situation, the chapter is advising procurement officials, private contractors, and business and civil society groups. Four government agencies have asked the chapter to review their contracting systems.
Corruption in public procurement is not just about money though, it can cost lives.
Many of our chapters are monitoring procurement and promoting Integrity Pacts, a tool developed by Transparency International a decade ago. The pacts are agreements between government agencies and bidders for a public sector contract to abstain from bribery, collusion or other corrupt practices. An independent external monitor ensures the pact is not violated. Pacts have been applied successfully in more than 15 countries with the total amount monitored now well over 300 worldwide.
"With our Integrity and Development Pacts we offer politicians a chance to rebuild that trust by involving civil society and local communities, to ensure transparency and accountability in procurement…These pacts were born out of the firm belief that to have the greatest effect against corruption we must empower those who are most vulnerable to it. "

Cobus de Swardt, foreward to annual report
These integrity pacts have been embraced by governments all over the world as a means to keep public spending on track. Following sustained advocacy by TI Malaysia, the country's Ministry of Finance directed all government agencies in April 2010 to integrate our Integrity Pacts into their public procurement procedures.
The ministry has issued sample contracts to be signed by all participants in the procurement chain, including suppliers, government procurement officers and tender committee members. The chapter will train government agencies to implement the pacts and educate companies and industry groups on their new responsibilities under the agreement.
Everyone, from individual citizens to high-level government officials, can play a role in ensuring tax payers' money is spent on good quality services at a fair price for all. Research and advocacy by TI Bulgaria helped to dramatically reduce the cost of building a section of the country's Trakia highway. The original €1.5 billion contract was awarded in 2005 without a public tender or independent monitoring. After evaluating the deal, the chapter asked national and EU officials to reconsider it. With TI Bulgaria serving as an official observer, a new contract was signed in 2010 for €247 million.
We need to maintain constant vigilance not just over individual contracts but the laws that govern them. In Africa, our Senegalese chapter, Forum Civil, achieved a partial victory in its effort to convince the government not to water down procurement rules. The government sought to significantly weaken the rules in 2010 to reduce oversight and make it easier to make discretionary and no-bid contracts. Following advocacy efforts from the chapter, the government removed most of the contracting exemptions and agreed to maintain balanced oversight committees, with three representatives each from government, civil society and the private sector. However, the government has not yet clearly defined 'state secret' projects that are not subject to bidding or public oversight.
Read more about TI's work on public procurement and other sectors in 2010 here.
Photo credit: Flickr_Thomas Hawk