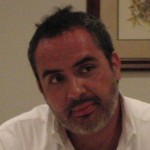 Alejandro Salas is the Regional Director for the Americas at Transparency International. The following article was first published on Fox News.

As a Mexican living in GermanyI sometimes forget certain things about my country of origin. I am not referring to my mother's breakfast enchiladas or the long spicy lunches on Saturdays eating with friends and listening to ranchero songs about love and heartbreak. What I tend to forget, though, are those things that made my day-to-day life difficult. One of those things is corruption.
In the decade between graduating from high school and emigrating from Mexico, I was exposed to no less than ten situations in which my integrity was tested. I was either asked for a bribe or put in a position to offer one to speed up paperwork or help get me out of an uncomfortable incident. This is not so striking if we consider that Transparency International's 2010 Global Corruption Barometer identified that almost a quarter of surveyed citizens in Latin America had paid a bribe to access public services such as health and education in the previous twelve months.