Emile van der Does de Willebois, Senior Financial Sector Specialist at the World Bank, writes about a new report on the ever-more sophisticated methods used to hide bribes, stolen assets and other criminal proceeds from the World Bank's Stolen Assets Recovery Initiative.
It's easy to set up a company.  If I want to start a business and limit my personal liability, all I have to do is fill out some forms, pay a registration fee and, presto, an entirely new, separate entity is born. I am no longer just Emile van der Does.  I am also the 100% shareholder and director of ABC Ltd.
There might be other steps needed before you can actually start doing business, but the first step —  the creation of a legal person — tends to be a simple, straightforward process, certainly in the world's financial centers.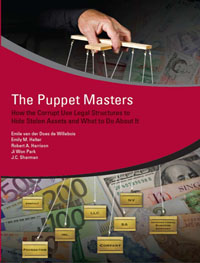 On the whole that is a good thing: Impediments to free enterprise should be minimal.  But the fact that I've now limited my liability should not allow me to hide my identity: people doing business with ABC Ltd. should still be aware that they're dealing with me – an actual person, not just a figment born of a piece of paper.  But such transparency is not always the norm, which is where problems can start.
Released today by the Stolen Asset Recovery initiative (StAR) of the World Bank and the UN Office on Drugs and Crime, "The Puppet Masters" explores how government officials hide ownership and control of corrupt assets behind constructions of paper. To paraphrase the famous English judge Lord Denning, these constructions are the puppets that dance to their master's bidding.
Virtually all grand corruption cases involve a company, trust, or foundation ("corporate vehicles" in the report's terminology) that has been created to conceal the beneficial owner's identity.
Take the case of Diepreye Alamieyeseigha, former governor of Nigeria's Bayelsa State.  He used companies with innocuous sounding names — "Santolina Investment Corporation" (incorporated in the Seychelles) and "Salomon and Peters Limited" (incorporated in the British Virgin Islands) — to conceal his beneficial interest in and ownership of monetary and real estate assets he acquired through bribery and corruption.
Or Bruce Rappaport, former Ambassador of Antigua and Barbuda to Israel and Russia, who bought an "off the shelf" company called Offshore Services Limited, renamed it IHI Debt Settlement, and used that entity to defraud his government of US$ 14 million. Or US lobbyists Jack Abramoff and Michael Scanlon, who set up the American International Center (incorporated in Delaware), a supposed think tank that in reality was a sham created to divert funds to entities they owned and controlled.
The list goes on. And a system that allows for the participation of corporate vehicles in our financial traffic, without insisting on transparency of who is driving them, allows such corruption to continue.
So it appears that instruments intended to facilitate business, encourage charity or limit liability can also be used for illegal ends. How can we combat this and ensure adequate transparency?  We all know that a puppet can only dance if someone is pulling the strings. It follows that identifying the puppet master behind such corrupt schemes is a crucial step. How do we do that?
Our report recommends that governments pursue several lines of attack to address this problem. First, governments should analyze the situation in their country to determine which entities are most often abused and how. This information should be made public.
Those dealing with the corporate vehicles– banks, legal advisers, accountants – should conduct proper due diligence when establishing a business relationship and find out who pulls the strings.
Is the director the real director or is he a nominee for someone else? Who is behind the shareholding company? Does the listed shareholder take instructions from someone else? They should not be allowed to remain willfully blind to corrupt operators.
Meanwhile, governments should increase financial support to their corporate registries, improve expertise and make sure that those registries contain a minimum standard of information – notably on directors, shareholders and relevant officers.
There are limits to what regulation can do, however. Sophisticated criminals can beat nearly any system. Therefore law enforcement needs to step up its game. Financial and legal literacy of investigators and prosecutors needs to improve.  They need to be able to distinguish a legitimate legal structure that makes economic sense, from one that is designed to conceal and confuse. They also need to be able to understand the ways these structures can be manipulated.
In The Puppet Masters, we are proposing key moves to re-engineer the infrastructure upon which corrupt money flows rely. To stop criminals from gaming the system, governments and the private sector must take action on several fronts. StAR will continue its work to return the issue to the international agenda. I hope you'll join us in keeping the debate alive.
Emile van der Does de Willebois started his career working for the Office of the Prosecutor at the International Criminal Tribunal for the former Yugoslavia in The Hague. Subsequently he worked in private practice specializing in banking and securities law. He joined the World Bank in 2004, and has been involved in technical assistance to Eastern Asian Pacific countries on Anti Money Laundering and Counter Terrorism Financing (AML/CFT). He specializes in issues of abuse of legal entities, beneficial ownership and the use of non-profit entities for terrorist purposes.