On Wednesday 2 November, Transparency International will launch the Bribe Payers Index 2011, which ranks the perceived propensity of 28 countries and 19 sectors to bribe abroad. Written for Transparency International's 2009 Global Corruption Report by David Hess, a Professor of Law at the Ross School of Business, University of Michigan, this excerpted article looks at corruption in the private sector.
"There is an expectation that you have to increase the amount of the invoice between 10 and 50%, sometimes more, and give the extra to the decision maker. They call it 'surfacturation' or overbilling in English. . . The shock came not from the expected public sector corruption but from the corruption in the private sector, including – especially – multinationals"
From Diary of an African Entrepreneur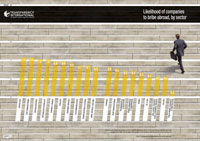 People typically think of bribery by companies as illicit payments to government officials to win public contracts or receive government services. This type of private-to-public bribery is just a small segment of the corruption risks that companies face along their entire value chain, however.
The many faces of corruption in the value chain
Individuals who work for private companies and negotiate contracts with suppliers, subcontractors, staff members or clients on behalf of their company have many opportunities to participate in corrupt payments. In what is often called 'commercial bribery', or, more broadly, 'private-to-private corruption', the bribe receiver accepts corrupt payments or other favours, in return for making deals that may not be in his or her employer's best interests.
In the United States, for example, several managers at Honda granted new automobile dealership contracts from the late 1970s to 1992 allegedly on the basis of the willingness of potential dealers to pay bribes. A class action lawsuit culminated in 1,800 dealers receiving US$330 million in damages from Honda.
Among them was a Pennsylvania couple who said that they had lost their dealership because they did not pay bribes. The couple sued Honda and a competing dealer, saying that, because they had refused to offer kickbacks, they received the least saleable cars, lost US$15 million between 1985 and 1989 and eventually lost their business. Another affected dealer from North Carolina said: "There's a feeling of hurt that this actually happened. The automobile business is a very competitive business. We expect fair and equal treatment."
From the initial stages of forming a company, there is a potential for corruption. From casino workers in the United States to nurses in Bahrain, the hiring process can be corrupted by recruiters and their agents requiring applicants to pay kickbacks to land jobs. To obtain capital, a bank employee could be bribed to give the company a loan on favourable terms. For example, a senior account manager at Royal Bank of Canada was accused of accepting C$362,000 (US$300,000) in bribes from a now defunct metal supply company in exchange for approving loans, increasing the company's multimillion-dollar credit line and preparing fraudulent financial statements.
Managers who control the purse strings for what often amount to multimillion dollar supply or outsourcing budgets that can make or break entire businesses are likely targets of corruption. In South Korea, for example, the chief executive of one of the largest telecommunications groups had to step down in 2008 following allegations over kickbacks from equipment suppliers in return for contracts.
An underestimated phenomenon
In the long run, all market participants, and society more broadly, are affected by corruption in the value chain. Paying bribes increases uncertainty and the costs of doing business for all. It fosters a culture and practice of dishonesty and moral decay that opens the door to other types of corporate wrongdoing.
Perhaps most importantly, it hollows out the fundamental principles of doing business, of fair competition and merit-based selection, which are prerequisites for markets to deliver innovation, efficiency, productivity gains and growth. In essence, corruption in the value chain – private-to-private and private-to public – poses a fundamental threat to the trust in and functioning of market economies.
You can read the original, fully referenced version of this article here