Manoj Nadkarni, Programme Manager of Transparency International's Forest Governance Integrity Programme, highlights the irreversible damage that exploitation of forests by companies and governments can do. 
Is the forest sector more or less corrupt compared to other sectors? This is a question I am regularly asked, and the recently published Bribe Payers Index answers this and puts forestry business transaction safely in the middle; better than construction or government procurement, but much worse than agriculture.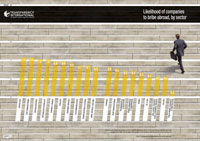 Such indexing not withstanding, this is an interesting question in as much as it highlights how corruption 'works'. But before I explain this, I usually point out one important point:  Given limited anti corruption resources the middle score may seems to suggest that there is no need for urgency in focusing on forest integrity, other sectors may call for more immediate attention but let's keep in mind that forest and forest biodiversity are disappearing rapidly and once gone, cannot be brought back.
There are very few places left in the world where original forests exist, and illegal logging, driven by corruption, is destroying the last remaining intact forests of the world.
So the impact of corrupt forestry is very high, since once we lose them, we lose them forever. Forests are not replaceable. And this impact, in its contribution to climate change for example, will be global, not just one country suffering the loss of its forest. This is why the EU has been attempting to change its legislation to limit the amount of 'corrupt' timber entering the EU.
But at what level does corruption in the forestry sector work? There is of course straight forward bribery. Big timber extraction and processing companies do it (often not in cash, but as in some cases in the Pacific islands, by taking forest official on foreign business trips, or providing forest officials with jobs after retirement.) But in most cases this will be petty bribery by small scale local timber suppliers, sawmills and transporters who grease the palms of forest officials to be allowed to go about their activities.
In the developing world, being a forest officer in a remote rural area is a very lucrative posting.
But if we think for a bit and ask "who stands to gain most from forest exploitation in most countries?" It's the forests departments and ministries. This was why ,historically, forest departments were set up to give the state revenues through the exploitation, sustainable or otherwise, of forest lands.
Forest departments received money for the timber, rents for the use of designated forest land (forested or otherwise), that was under their jurisdiction and for any extractive operations carried on what was marked as forest land.
Forest departments strive to increase revenue from forest land and increase the size of their turf.
Since the revenue they bring in is substantial, governments are reluctant to intervene except when the situation gets too serious and the loss of forests gets very high. In many of not most developing countries, forest departments are the largest landholders in the country.
However the world has changed, though the need for timber and pulp has not reduced, conservation has entered the picture.  But forestry departments want to keep forestry and timber operations going in the face of conservation needs, fighting change in government polices or international pressures to preserve forests. Because they receive no rents from protected areas, forestry departments do not want too many reserves or conservation parks.
Companies are accomplices who help themselves and the forest departments make money. The issue is one of connivance, of companies and forest departments working to maximise the benefits of timber extraction and overriding any other interests. How is access to forest resources given to companies? Through government procurement processes.
Since forest lands are given out through a process of tendering for timber licences and forest concessions (the process of procurement) corruption in the form of bribery will not show up in forest departments, but in a country's system of procurement. With the help of opaque licensing processes, poor governance, lack of accountability (for example, no one will know who actually gave the permission for a particular block of forests to be exploited.) and weak enforcement, timber companies can ensure an endless supply of timber for themselves, and forest departments can earn revenues making them one of the most powerful ministries in any government.  But note that such connivance is not likely to show up as corruption in the forestry sector, but as corruption in a country's procurement processes.