In considering all the actors involved in procurement misconduct, the FIEC-EIC`s Uwe Krenz noted the expression 'it takes two to tango,' adding "I will increase the two to three or four… but I don`t know what dance that is." This plenary panel examined each of these actors (or dancers) in turn, proposing some innovative strategies to address this problem holistically.
The European Commission's Christian Servenay gave us a 'sneak-preview' into what to expect from the Commission's proposals, to be released in January. He declared their intention to "impose the full use of electronic procurement two years after the date of implementation of the Directives" – by 30 June, 2017. E-Procurement has had significant benefits in increasing transparency, primarily through reliable data connection. (Click on the links to see TI`s input into e-Procurement and modernising the Procurement Directives in general.) He also stressed the need for significantly enhanced monitoring and reporting on national level implementation of EU directives. Mr. Servenay also promised to provide a "basic definition of conflict of interest, [and to] impose some specific requirements on member states and on contracting entities."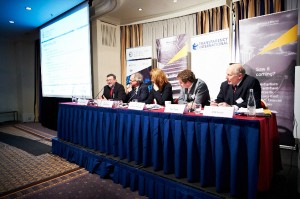 Peter Tausz, from TI Hungary, premised his presentation on the "common understanding" that transparency should be a guiding principle in public procurement. The question is, he declared, "what kind of transparency do we want?" Data collection in all 27 EU member states could give an insight into the extent of corruption in public procurement. He further agreed that e-Procurement is an important step, and also highlighted the importance of better regulation and implementation of disclosure requirements. He discussed TI Hungary's challenges in establishing an Integrity Pact in Hungary, a tool that allows civil society to act as an independent third party overseeing the contracting process and reducing the risk of corruption. Peter touched on how a complex control mechanism system through transparency should be developed and concluded that "smart" transparency is better than accumulating overwhelming amounts of information. Peter also mentioned some current challenges in the new regulation of public procurements, and asserted that "the EU procurement system has to be unified, because member states are using very different solutions."
Coming from the construction sector, Uwe Krenz acknowledged the poor reputation that his industry has gained over the years with regards to procurement management, and the challenges that remain in restoring its name. He declared a "zero tolerance" approach to corruption, adding that the sector needs to "build trust and confidence in order to develop our industry."
Finally, Nicholas Ilett from OLAF spoke about the fraud and corruption cases that he deals with in procurement, including more recent developments involving people outside the European institutions paying insiders for contracts. "Nothing new about that," he noted, "but what is interesting in this particular case is that there were middlemen involved, in the form of hidden consultants. An industry has developed by which persons describing themselves as consultants… were looking for people whom they could bribe inside the organisation… then looked for contractors outside to whom this information could be sold." These new cases speak to the complexity of addressing corruption, and the advanced techniques that are required to deal with them. Nicholas Ilett also spoke about investments in training and information sharing, so that detecting fraudulent practices becomes easier.
The panel gave us some fascinating insights into procurement issues and the Commission's progress in developing a new legislative proposal. We look forward to examining this work in the new year to see whether it holds up to the highest standards of integrity and accountability as demanded by TI.
For more details, view the entire discussion of this conference panel here.
This blog is part of a series on TI-EU's last week's conference on "Tackling corruption across the EU" that you may access here and here.
John Warnes, Assistant Programme Coordinator – Public Contracting, TI-S,  Lucy Strang and Frida Eriksson Tall, Advisors to the TI-EU office