Ahead of the presidential elections taking place in Russia this Sunday we interviewed  Elena Panfilova, Board Member of Transparency International and Director of our Russian Chapter.

Where is the greatest change needed in Russia today?
Russia needs competition to return to all spheres of public life; particularly in politics, in the economy and in the media.
Can the activism ahead of the elections be sustained afterwards?
Definitely. Society changed and this change cannot be cancelled after the elections. People have become more interested in public life, in public finances and in the  elections. This is natural process and I am sure it will only grow.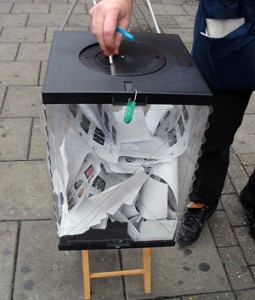 In many citizen led movements around the world in the last year, it is claimed that social media played a big role in getting the word out. Was this the case in Russia and do you think Russian activists online have successfully transferred their messages into concrete action?
The Internet is only an instrument. Everything ultimately depends on people. Activists use on-line tools to spread their ideas, to share opinions and to organize events. Concrete actions are already happening because web tools help them to happen. But again, it is important to have active citizenship, active people from all possible walks of life participating in civic life and in public debate. Without those interested people, on-line tools do not work.
If Putin wins, what is the best way forward to make change?
The best way forward is not to give up and to continue daily routine of civic activism: to help under-privileged, to run educational programmes, to monitor corruption, to disclose and publish information about the actions of public officials. Elections are only a focal point which have showed that civil society in Russia (real grass roots civil society) has finally emerged. The best recipe for a better future for my country is to help civil society grow and act.