As the prices of oil and other non-renewable commodities begin to soar once again, anti-corruption activists from DR Congo, Ghana, Liberia and Zimbabwe were in Brussels last week with the message that there is a once-in-a-generation opportunity to get their economies on a sustainable development path, a path that has been blocked by corruption in the past. EU legislators can do their bit by passing robust new transparency rules for the extractive and forestry sectors.
The murky relations between governments and industry continue to cast doubt on the benefits that the recent boom in commodity prices will bring to the poorest sections of African societies. That was the message delivered by anti-corruption activists from four commodity rich states in sub-Saharan Africa at a roundtable convened by Transparency International and the Open Society Foundations last week (Tuesday 27 March). From diamond mining in Zimbabwe to the Liberian logging industry to newly discovered oil and gas in Ghana, the message was the same: tackle the resource curse. If natural resource revenues are going to produce benefits for all African citizens, local civil society groups will need the right information to perform their watchdog roles.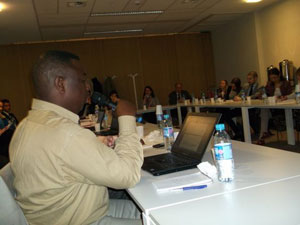 We were very fortunate to have Transparency International colleagues from Ghana, Liberia and Zimbabwe in town for the day.  We were also lucky to be joined by one of Open Society Foundations' partner organisations in DR Congo. Their compelling stories and experiences gave a rare insight into what a well-governed natural resource sector means for their countries' hopes and aspirations. As the prices of oil and other non-renewable commodities begin to soar once again, it was clear that they are faced with a once-in-a-generation opportunity to get their economies on a sustainable development path, a path that has been blocked by corruption in the past.
Shine Williams from the Centre for Transparency and Accountability in Liberia set the tone by noting how natural resources in his country should be the cure not the curse. He named communities around Bong Mines and Yekepa which are still mired in poverty, yet to benefit from the resources extracted from their soils. Worse, in districts like Rivercess the actions of some in the logging industry (also included in the EU rules) has fuelled conflict and civil unrest.
Nyaradzo Mutonhori from Transparency International Zimbabwe also highlighted the lack of return seen by Zimbabwean citizens from their resources. Despite the fact that the vast diamond fields in Marange have been called the "8th wonder of the world", diamond extraction contributed a measly $300M to the national budget. She expressed her fears that, without greater transparency, diamond revenues will be used to finance political violence in the forthcoming elections, as has happened in the past. 90% of diamond mining in Zimbabwe is controlled by companies listed on the London Stock Exchange, all of whom would come under the scope of the EU legislation.
Georges Mukuli from Southern Africa Resource Watch based in Kinshasa, contrasted the DRC's immense resource wealth with the dismal returns seen by its population living on less than $1 per day. He dismissed the notion that the reporting requirements would place EU companies at a disadvantage compared to their more opaque competitors (from China for example). For him, this is an entirely European preoccupation that avoids the real reasons for the success of Chinese companies in DRC: the high levels of infrastructure investment they provide to host communities in return for leases and concessions.
Nana Yaw Saah Aboagye from Ghana Integrity Initiative has a similar story to tell.  Between 2007 and 2009 Ghana lost €36 million in mining revenues.   He illustrated how the missing link between revenues and poverty reduction efforts is the lack of monitoring and accountability mechanisms.  Ghanaian mining communities are entitled to a share of the royalties paid by companies but these are impossible to track due to poor disclosure. The fact that mining communities are beset with intractable poverty levels is an indication that the distribution of revenues has not served its intended purpose. Either the right amounts are not made available or revenues find their way to the pockets of corrupt officials and groups.
What can be done? Fortunately, some of this is in the gift of EU legislators who are discussing new transparency rules for the oil, gas, mining and logging industries.
The debate in Brussels over extractive transparency is heating up. As MEPs and national ministers come close to finalising rules that would make it mandatory for companies in the European Union to disclose their payments to government, swarms of industry lobbyists have been fretfully pacing the corridors of power.
To some extent those lobbyists have been successful in framing the terms of the debate. Much of the discussion has focussed on how to minimise the reporting burden that would fall on the companies. For example, it has been proposed that the threshold for reporting payments should be as high as €1M per project; and that "project" should be defined in such a way that reflects companies' existing internal reporting systems, but would be difficult to relate to actual projects or "holes in the ground".
In their haste to make concessions to companies, EU policy-makers have lost sight of the intended beneficiaries of this legislation: citizens and civil society groups who need detailed and verifiable information to hold their governments to account for the way they use the revenue for the extraction of resources like oil and diamonds. This roundtable was an opportunity to set the record straight.