It was another day of fieldwork; the project officer arrived at Amach health centre IV in Lira district, Northern Uganda at 9:15am and was welcomed by the security guard. No health worker had started working yet. He found 15 patients seated waiting for health service. By 10:20am 78 patients had lined up. Patients could not hide their disappointments on how they felt about the delay in accessing health service.
After nearly five years of insurgencies in Northern Uganda, access to healthcare is patchy. The sector is generally understaffed and even those employed remain absent from work while still being paid. Our chapter in Uganda is running a project in the Oyam and Lira district of Northern Uganda to stop health workers' absenteeism. From April 2012 on Transparency International Uganda (TIU) is empowering communities to monitor and improve health service delivery by providing them with a toll free hotline to report on irregularities. This is done in cooperation with the Swedish Program for ICTs in Developing Regions (SPIDER).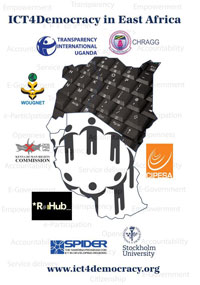 TIU is a member of the
ICT for Democracy Network in East Africa
which promotes social accountability and transparency through the use of ICTs. The network currently has 8 major members. Within the network there are three organizations (TIU, WOUGNET & CIPESA) from Uganda, two from Kenya (R iHub and Kenya Human Rights Commission), one from Tanzania (CHRAGG) and two from Sweden.
TIU believes in working together with women, involving them in community development activities and being their voice at an advocacy level. Women are active and passionate in implementing community programs; they are concerned with the need for improvement of health care service delivery because they interface more with health challenges.
ICTs are viewed as a luxury reserved for the educated and wealthy which can mainly be accessed by people living in urban areas. This view is especially true for women who are often restricted to the domestic sphere which limits their access to training of relevance to them. One of TIU's partners, Women of Uganda Network (WOUGNET), ran awareness-raising workshops under the SPIDER project on good governance and effective services delivery, as well as ICT capacity-building workshops in the Kole and Apac districts in December 2011. The purpose of these workshops was to equip rural women and men to use computers, the internet, mobile phones, radios, digital cameras, and print media to amplify their voices on issues of bad governance and poor service delivery in their different parishes so that the duty bearers are forced to respond appropriately.
TIU will provide women and men with a tool free call centre hotline to always report irregularities. The technology will be handled and managed directly by TIU. Telephone calls will be recorded and replayed to generate reports which are then shared with partners and the government (district health office) to demand for positive changes tailored towards improving health service delivery.

See more photos here