Money laundering, bribery, embezzlement, cronyism; corruption has many guises and is endlessly creative. Its main fuel is a failure to acknowledge or act upon its existence. Last month's Rio+20 conference on sustainable development dodged that fate.
Sustainable development is about ensuring that economic growth can happen globally, but evenly and not at the expense of our planet or our health. Sustainable development is the opposite of corruption, which traps whole populations in poverty, makes education unaffordable or water inaccessible. The two cannot co-exist.
It came as a shock then, that the word corruption was entirely absent from the first draft of the Rio+ 20 resolutions. Concerned that they were burying their heads in the sand, we set to work lobbying governments to agree on measures that would help set right the anti-corruption agenda for sustainable development.
We did not leave disappointed. In the outcome 'Future We Want' document, it was acknowledged for the first time in the history of the conference that corruption poses a serious threat to its goals. "We are determined to take urgent and decisive steps to continue to combat corruption in all its manifestations," governments said.
This appears in the section on development financing. The rationale is that money – implicitly aid and climate finance – will be wasted unless the checks and balances are in place to ensure that it's spent fairly and effectively. At its heart is the recognition that sustainable development funding must be governed – and governed well.
Back in 1992, at the original sustainability summit in Rio, financing pledges focused largely on the imperative to increase funds. Delegates called for "adequate and predictable" resources that were represented by "accurate and reliable data" and subject to regular reviews. Yet little detail was offered as to how.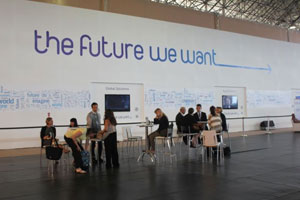 The Rio+20 text goes some way to filling those gaps. It recognises the importance of policy-making and spending that is transparent, mutually accountable, and grounded in citizen participation and management for results. Donors are encouraged to publish rolling timetables indicating progress towards their goals. Recipients are urged to report on the impact of aid with clear data on tangible results. The document also heralds the creation of an intergovernmental committee to assess funding needs and spending effectiveness.
Governments, it would seem, have come some way in the past 20 years in understanding how to make the most of their money. These steps also help align development streams with global commitments on making aid flows more transparent and accountable.
But we need to raise the bar higher.
We need third-party oversight watching over transactions and projects on the ground. We need anti-corruption hotlines for people to report abuse, and whistle-blower protections to guard them against retaliation. We also want companies to play by the same rules as governments. Climate money that's channeled through the private sector shouldn't disappear behind secrecy rulings or a culture of opaque reporting.
Beyond the financing debate, we also need acknowledgement that corruption effects more than money flows. It pervades all aspects of sustainable development, such as health service provision, forest conservation, education and mining. Corruption creates a barrier to equal access and distorts the quality of services. It also undermines principles of citizen participation and skews policy decisions in favour of those who use money or power to capture the agenda.
Anti-corruption targets need to be integrated into all development-relevant sectors and systems put in place to check how on track we are to achieving them.
Hope versus expectation: we should be mindful to distinguish these when reflecting on the successes and failures of Rio+20. With nearly 200 countries at the negotiating table, agreeing on anything unanimously is not easy, let alone issues that are as politically laden as climate change, debt relief and food insecurity.
The 'Future We Want' has come under fire for its lack of ambition, resolve, and concrete, time-bound commitments. But it is a common denominator document that has attempted to reconcile a vast spectrum of ability and aspiration.
While delegates were deliberating over the outcome text's finer details, the summit also gave rise to a series of voluntary pledges to make sustainable development a reality, made by governments, cities, businesses and civil society. These commitments embody the true spirit of Rio+20. It is now our job to monitor progress towards their fulfillment, draw inspiration from success stories, learn from mistakes, raise our level of ambition and advocate for positive, effective change on the ground.