Transparency International is a household name in Bangladesh, thanks to one of the biggest chapters in our movement.
The efforts of Transparency International Bangladesh to engage people from all over the country have resulted in a 5,000+ strong volunteer base and tens of thousands more participating in activities and campaigns. Founded in 1996 Transparency Bangladesh now have 265 staff – more than many international NGOs. I visited them this July to discover how they achieved this incredible success.
Their priority is to mobilise a social movement against corruption, reflected in their initiatives, programmes and organisational structure. Very early on, they realised the importance of civil society participation in fighting corruption and promoting transparent, accountable and efficient governance.
Local committees throughout the country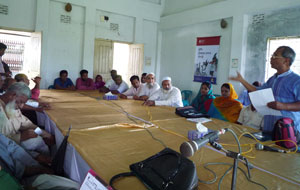 Transparency Bangladesh engages people against corruption through local level watchdog groups, called Concerned Citizens Committees, to which they provide technical and financial support (essentially, they provide an infrastructure within which the committees can take their own direction). The dedicated people who sit on the committees motivate and mobilise other people in their community.
The committees' biggest focus is the delivery of public services in education, health and local government. This is crucial in a country where two thirds of people say they paid a bribe to access public services, more than any in the region.
This mix of support and freedom is allowing the citizens committees to flourish. There are currently 45 operating throughout Bangladesh's 60 provinces. Each group has up to 21 volunteers and unlimited 'friends'. They try to make local institutions more transparent through social accountability initiatives such as citizen report cards, complaints boxes, advice and information service, face the public, mothers' gatherings, open budgets and integrity pledges.
Expelling corruption from schools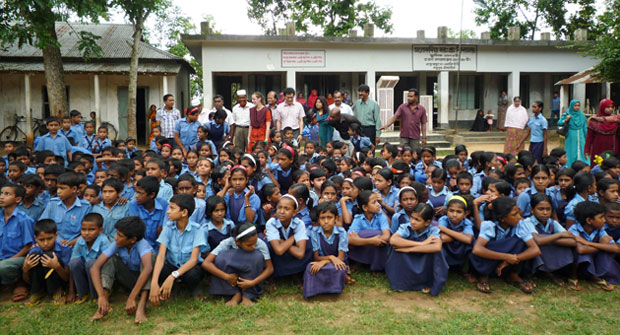 We visited a committee in Madhupur in the north of the country which had worked with a local primary school for several years. Back then, pupils' education was suffering due to poor facilities in the school – no furniture, leaking roofs – and drop-out rates were very high.
Although the government had committed to improving facilities through the implementation of school management committees, regulations were not enforced to hold them to account. Transparency Bangladesh worked with the school to reactivate parent-teacher meetings.
We attended one such meeting where mothers explained to us that as a result of Transparency Bangladesh's involvement, they had become aware of the situation and began demanding more from the school management, who could then no longer provide inadequate services.
A political cartoonist who criticised the Indian government of corruption was jailed this week. Transparency International Bangladesh holds annual cartoon competitions on corruption. See some of the entries
here
.
Parents and pupils now knew about the availability of stipends and scholarships, and became more engaged in their children's schooling consequently providing more support with homework and encouragement to attend, meaning grades improved and drop-out rates decreased. Parents expressed gratitude to Transparency Bangladesh for kick-starting this change and teachers proudly told us that this school had become a role model within the area. (read more development stories from the region, like how Alokdia primary school in Bangladesh cut its dropout rate with transparency here)
Bangladesh's anti-corruption youth movement
Transparency Bangladesh is also working to engage young people, running Youth Engagement and Support (YES) groups. There are now 60 YES groups, with up to 50 volunteers per group and unlimited 'friends'. Members are made up of college and university students aged 18-25.
The YES groups use a similar approach to the citizens committees through their satellite information desks. They raise awareness of rights and understanding of corruption through street theatre, observation of important days, rallies, competitions, conferences, magazines, and study groups. Both groups hold enormous annual meetings (see photo above).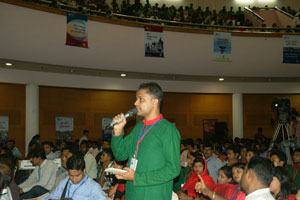 Both CCC and YES groups have strict membership criteria. All members must uphold TIB's values in their daily lives, display a high level of integrity and be dedicated to fighting corruption. As a result, members are very proud to be associated with Transparency Bangladesh and take their responsibilities seriously, reflected in the effective functioning of the groups.
Transparency Bangladesh have built a strong and committed network of citizens who not only support the cause but take action to disseminate the message and bring about social change.  By ensuring that TIB members practice what they preach, Transparency Bangladesh maintain their excellent reputation. This reputation is the key to a number of systemic and lasting policy changes that Transparency Bangladesh have catalysed through working with the Government. Transparency International Bangladesh have positioned themselves in a way that means their voice against corruption simply cannot be ignored.
See more photos from Transparency International Bangladesh below.