A review of a book with strong corruption themes. Next week we will run a blog post about corruption in literature. Please post your suggestions below.
The stink of rotting garbage hangs over Annawadi, a Mumbai slum built on a garbage dump surrounding a sewage lake. But even more harmful to the residents of Annawadi than the foul air is the stench of corruption that pervades every corner of their lives.
Pulitzer-Prize winning author Katherine Boo spent three years researching Annawadi and interviewing its inhabitants. Out of these interviews she has woven a compelling true-life narrative of events in the lives of several slum-dwellers and their families. We all need a better understanding of how corruption ruins the lives of the very poor – "Behind the Beautiful Forevers" gives us a mud-level view.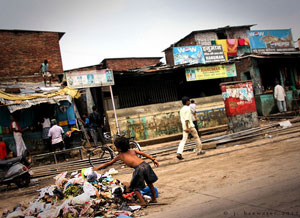 We follow Abdul, a child of uncertain age, as he builds a business as a garbage merchant, buying scraps of stolen metal and garbage from refuse-pickers and selling them to recyclers.
There is Manju, a teenage girl with aspirations of college whose slum-boss mother has chosen a career in political corruption and bribery.
When Abdul is falsely accused of murder, we learn that police pressure is harshest on those who have the means to pay the largest bribes to have the charges dropped. We learn that the beatings can be stopped – if the price is right. We learn that a visit to a police station without cash in hand is like stepping into quicksand. We learn that in court, police, lawyers, judges, witnesses, and even the accusers have a price – a price out of reach of the poor of Annawadi. We learn that in India, when all else fails, one can pay to have documents falsified so that a child without a birth certificate can go to juvenile detention rather than adult prison.
If you want read about a real life story of corruption in a Moroccan slum, click
here
.
When other slum-dwellers suffer medical emergencies, we learn that medical procedures which are nominally free cannot be scheduled without a substantial bribe to the doctor. We learn that medicine is unavailable at the hospital because it has been sold on the black market by hospital staff – but it can be purchased on the street outside the hospital for inflated prices.
We see a poor garbage-picker, his leg crushed by an auto accident, dying by the side of the road over the course of a full day as people walk past, "too busy" to help. We watch as his death, and other deaths of murdered Annawadi boys, are listed as due to "natural causes", so that the local police station can maintain a good record of crime prevention. We learn that the police do not bother to investigate the identities of the dead bodies they pick up, because they can sell unclaimed corpses to medical schools.
Perhaps most gut-wrenching of all, we see how the poorest often respond to their helplessness by turning on each other, and for too many, taking it out on themselves by taking their own lives. Read this book – it's a grim wake-up call to those who think of petty corruption as a free-market "lubricant" to a growing economy. It is not. It is a lake of garbage and sewage situated between two luxury hotels, known in this instance as Annawadi.
Watch the video below to get an impression of life in Annawadi