Last week we released data which found that just over half of the business people we surveyed said that their company has an anti-corruption policy in place. Whilst there is clearly much room for improvement on this result, it is nevertheless encouraging to see that many businesses around the world recognise the importance of the corruption risks they face to a sufficient extent that they will invest in implementing policies to address these risks.
We learned more about companies' anti-corruption policies in the 'Transparency in Corporate Reporting' research published earlier this year. Our report assessed the anti-corruption programmes of 105 of the world's largest publically listed multinationals, based on publically available information. It is encouraging to see that over 75 of these companies publically state a zero tolerance for corruption, and that for 86 of them, these policies are publically supported by leaders in the company.
As anti-corruption policies are neither obligatory nor costless for a company to put in place, it is clear that many companies recognise the value they have for their business.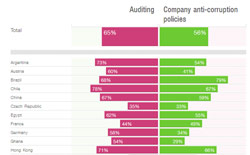 But our results this week find that only a little over half of business people surveyed actually think that corporate anti-corruption polices are effective or very effective in the fight against corruption in the private sector. So why do 46 per cent of business people overall – and more than two-thirds of those surveyed in the Czech Republic, Germany, Ghana and Russia – doubt the efficacy of corporate anti-corruption policies?
Firstly, quality is important. It matters what is contained in these policies. Despite the large number of companies assessed in our 'Transparency in Corporate Reporting' research that have some from of anti-corruption programme, only 21 of the 105 companies prohibit facilitation payments. This is an important gap in the policies which must be closed if bribery associated with basic business processes and transactions is to be stopped.
Secondly, it matters how these policies are implemented. Whilst more than half of business people in our survey say that their company has an anti-corruption policy, just a third say that they conduct regular staff trainings on the policy. If the policies are little more than sheets of paper and nothing is done to put policies into practice and ensure they are part of each employee's day-to-day work, these policies will not achieve the goal of stopping corruption.
Finally, as anti-corruption policies are not obligatory, one company with an anti-corruption policy – no matter how well developed and enforced – will not change the behaviour of all other companies in a country or industry. This may explain why auditing is seen as effective or very effective by about two-thirds of those we surveyed, as in most countries and industries this is a requirement for all companies and therefore has an industry- and country-wide impact.
To effectively stop corruption in the private sector, anti-corruption policies and programmes need not only to be high quality, comprehensive and well implemented, but they also need to be the rule for all companies – rather than the exception.
See below for the percentage of business people surveyed that think each of the five measures we listed can be effective or very effective in the fight against corruption. You can also view our interactive infographics with additional information here.
| | Collective business initiatives against corruption | Auditing | Due diligence on partners in supply chain | Company anti-corruption policies | Anti-corruption standards in the company's Corporate Social Responsibility agenda |
| --- | --- | --- | --- | --- | --- |
| Argentina | 43% | 73% | 63% | 54% | 55% |
| Austria | 56% | 60% | 46% | 41% | 47% |
| Brazil | 62% | 68% | 59% | 79% | 74% |
| Chile | 57% | 78% | 70% | 67% | 63% |
| China | 62% | 67% | 59% | 59% | 57% |
| Czech Republic | 26% | 35% | 18% | 33% | 33% |
| Egypt | 50% | 62% | 44% | 55% | 52% |
| France | 38% | 44% | 38% | 49% | 44% |
| Germany | 32% | 58% | 42% | 34% | 29% |
| Ghana | 31% | 54% | 40% | 29% | 25% |
| Hong Kong | 65% | 71% | 68% | 66% | 64% |
| Hungary | 26% | 34% | 53% | 43% | 33% |
| India | 57% | 76% | 61% | 65% | 73% |
| Indonesia | 58% | 71% | 53% | 64% | 54% |
| Japan | 73% | 85% | 60% | 53% | 48% |
| Malaysia | 44% | 69% | 51% | 53% | 48% |
| Mexico | 48% | 62% | 48% | 44% | 45% |
| Morocco | 48% | 68% | 56% | 51% | 60% |
| Nigeria | 71% | 80% | 73% | 79% | 80% |
| Pakistan | 79% | 79% | 78% | 70% | 68% |
| Philippines | 65% | 73% | 62% | 68% | 66% |
| Poland | 34% | 39% | 22% | 50% | 38% |
| Russia | 31% | 30% | 34% | 28% | 21% |
| Senegal | 66% | 75% | 76% | 75% | 73% |
| Singapore | 61% | 81% | 73% | 68% | 62% |
| South Africa | 66% | 80% | 70% | 73% | 70% |
| South Korea | 43% | 66% | 53% | 46% | 45% |
| Turkey | 68% | 80% | 76% | 76% | 78% |
| USA | 44% | 69% | 55% | 45% | 45% |
| United Kingdom | 42% | 70% | 64% | 54% | 48% |