The elections here did not go well. Even the enormous expenses of installing cameras at polling stations didn't provide transparent voting. Constant problems with connections, lack of experience in using of such systems and the rush in preparation for the elections turned the idea into a new kind of entertainment. Not surprisingly, the independent election monitors pretty much called the whole event a farce.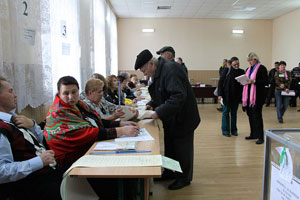 But elections are no joke. The people should be given the opportunity to have their say. All parties and candidates said fighting corruption was a number one priority. The fact that the election itself was riddled with allegations of corruptions is not a good start.
Paradoxically, it was the people who lost and the parties who won.
The people lost because there was no real democracy. There was no transparency of the political parties, the government dominated the run-up to the election with undue influence in the media and the judicial system is beholden to the government so other parties had little recourse to challenge this. The voters didn't even have a chance to influence the party lists, so they had to vote for whomever the party put forward and many of the candidates had tarnished reputations.
It was the political parties that won in the end.  The ruling Party of Regions kept its power according to the proportional system and their candidates also swept the first past the post voting system. The opposition also won because the total votes for the three main opposition parties ended up as twice the figure of the ruling party.
The far left won because they doubled their previous result. And the far right won because with 11 per cent of the votes, they now have enough of the votes to have seats in parliament.
If anyone wants to launch a legal challenge to the results, they will have a hard time because the courts are to a large extent beholden to the ruling party.
What will this mean for the fight against corruption? The government keeps saying it is transparent and wants to combat corruption. On paper, the state follows all the demands of the Open Government Partnership global initiative, but in fact no work has been done yet to put into practice these requirements.
Fighting corruption should have started with free and fair elections. That didn't happen. We'll see in the next few weeks if the government or any of the newly elected MPs are serious about fighting corruption. As candidates they all said they would launch a "crusade" against the corruption. I hope I don't have to hold my breath for too long.