Filipino parents unhappy with the way their children's schools are being run now have a ready remedy: sending an email or text to the website checkmyschool.org.
The site has a scrolling list of user complaints, ranging from a computer shortage in an elementary school to allegations – supported by a photo – that another institution is putting pupils' health at risk by allowing rubbish to pile up.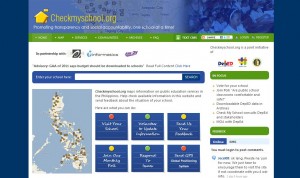 "[The site gives] real-time feedback on whether teachers and textbooks are showing up in schools – and it's putting pressure on government to respond," said Sanjay Pradhan, a vice-president of the World Bank, which is supporting the project run by the education ministry and civil society groups.
In its simplicity, accessibility and exploitation of the raw power of information, the checkmyschool.org initiative reflects a growing enthusiasm internationally for grassroots approaches to tackling graft. Aided by social media, activists are using revealing data to harness a widespread public frustration with governments manifested in events ranging from Arab world revolts to the Occupy protests.
While many local corruption campaigners have for years been running street-level action, their way of operating is now finding increasing favour with big institutions charged with tackling graft. The trend is in part a response to difficulties activists have long faced in making their work seem relevant to the publics they are supposed to be serving and protecting. Stories of millions swirling around webs of offshore companies can seem abstruse and abstract, while targeting multinationals over alleged bribery can risk backfiring if the action is presented by hostile media and lobbyists as a threat to precious contracts and jobs.
The staggering size of the sums involved in international corruption can also, paradoxically, remove some of their cathartic sting: most people know what $10 looks like, but only a very few will ever have seen $10m.
Indian activist Aruna Roy turned this argument on its head in a story that showed how a local stimulus can lead to the development of a global sensibility. She told how one of her colleagues, a woman named Sushila, was asked at a press conference in Delhi why – even though she was barely literate – she was agitating against official corruption. Sushila retorted that, when she sent her son to the market with 10 rupees, she needed him to account how he spent it – so she expected the same from her government.
Paul Hilder, a vice-president at the Change.org website, says the social media has dramatically enhanced the ability of activists to harness such feelings and turn "a moment into a movement". International anti-graft campaigners "should try not always to act as generals, but as vehicles and facilitators" for anger that will acquire its own electronic momentum, Mr Hilder said. He cited a series of cases where the Change.org site had turned spontaneously into a platform for ad hoc anti-corruption campaigns. One student in the Indian state of Bihar had forced the authorities to act by posting mobile phone footage of officials beating him up last year for refusing to pay a bribe for a driving licence.
Such a free flow of unmediated or barely filtered information brings its own hazards. It creates the risk of vindictive or mischievous complaints, and – in the absence of context – the information could be meaningless or even misleading. Data on the quality of public services can also be notoriously difficult to measure fairly, as the arguments that rage perpetually over school and hospital league tables in the UK and other western countries show. And publishing information can be dangerous for those who do it, in a world where – as Daniel Kaufmann, president of the Revenue Watch Institute, pointed out – two-thirds of countries still don't have fully free medias.
But, as checkmyschool.org shows, there is no doubting the acceleration towards providing what Aruna Roy described as "the information about public services [that] must be there for people to see". She sees it as a first step not just to embarrassing governments, but – at its best – to linking the public to officials within the authorities who also want to see change and may welcome the excuse to make it.
State institutions are not "monolithic entities", Ms Roy said, adding: "There are courageous reformers in government and international organisations."