Yesterday in Soweto's world-famous Regina Mundi church, beneath a stained-glass image of Nelson Mandela, worshippers spoke out against the country's current crop of leaders – particularly, those who've been at the heart of headline-grabbing corruption scandals in recent months.
"It's becoming more corrupt every day … and it's growing worse," said Sidney Matlana, a member of the congregation. "Things are getting worse than it was before," it was reported on a local news site.
It's feelings like these which hung heavy as the country marked International Anti-Corruption Day on 9 December 2012.
This year we have seen bribery on the roads, where one in four drivers are asked to pay a bribe by traffic police; the education meltdown, where pupils in some provinces go for more than half the year without any books; the Secrecy Bill, which if passed in its current form could muzzle the media and land whistleblowers in prison; and the Nkandla scandal, where more than R200-million (about US$23-million) of taxpayers' money has been splurged on upgrading the president's private home.
From Friday 7 December, in the run-up to Anti-Corruption Day,  Corruption Watch, the organisation I work for, launched a video showing nine ordinary young South Africans speak out about how corruption affects their daily lives. Dodgy dealings in government housing schemes, textbooks not arriving at schools, and educators demanding sexual favours in order to pass their female pupils were among the experiences documented. Watch the video below.
Corruption Watch also teamed up with one of the country's most controversial and popular cartoonists, Mdu Ntuli, to bring out an animated series of YouTube clips (below) exploring the corruption scene in South Africa through the eyes of local characters Bra Tjotjo and his shady sidekick Van Deventer.
Tjotjo is South African slang for bribe money. The first clip was brought out on Friday 7 December and the next will follow sometime this week. Keep a look out for it here.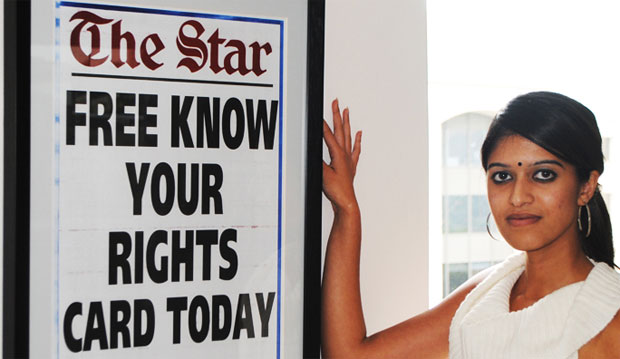 Young Corruption Watch intern Kavisha Pillay wrote a stirring open letter to President Jacob Zuma, published in City Press newspaper, questioning the price of freedom.
"Mr Zuma, I was also born in a time that has been marred by corruption, fraud and deceit by those in power. As a young South African, I appreciate my freedom for which so many before me fought.
"I would not have been able to write this letter to you freely if it had not been for those brave and courageous anti-apartheid activists.
"But at what cost does freedom come? I am free to live anywhere in the country, but I don't have a voice when the government decides to demolish my house.
"I am free to walk on the street and drive on the roads at any time, but I am powerless when confronted by corrupt traffic officers.
"I am free to pursue my dreams as a journalist, but my opinions and views will be silenced by the Secrecy Bill that has just passed. So again, Mr President, at what cost does my freedom come?" Pillay asked.