It was late 1992 and Peter Eigen was putting the finishing touches to plans that would see the launch of Transparency International in 1993. For several years Eigen, then a veteran World Bank senior official, had been waging a campaign inside the Bank and across the development aid community to build understanding of how corruption – the abuse of power for personal gain – was wrecking anti-poverty projects in many of the world's poorest countries. He won encouragement on a personal level from an array of senior officials, but the institutions refused to budge. Their leaders said corruption was just too hot to handle. Eigen decided it was time to act.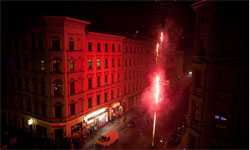 In February 1993, a group of some 20 friends from a dozen countries met in The Hague to approve the charter document that established Transparency International. In May of that year a launch conference was held in Berlin and the organisation was off and running. It is easy to scan the globe today, see the mountains of abuse, and suggest that for all of Transparency International's efforts and those of so many other civil society organisations, little has changed. That conclusion is wrong and it one worth pondering this New Year's Eve.
Just consider as we enter Transparency International's 20th anniversary year that my short-list of retrospective developments includes:
Twenty years ago there was no international civil society movement dedicated to fighting corruption. Today Transparency International has 100 national chapters; the Partnership for Transparency Fund has completed over 200 projects; there are hundreds of NGOs across the world – operating at national and municipal levels – fighting corruption. Their cumulative impact is enormous.
Twenty years ago there were very few academics specialising in this field. Now 5,000 people subscribe to Transparency International's research network.
Twenty years ago there was not a single anti-corruption international convention. Today, there are regional conventions; there is the OECD Anti-Bribery Convention and the United Nations Convention against Corruption. The Group of 20 (G20), at its last two summits, released "Anti-Corruption Action Plans."
Two decades ago there was not a single development agency that was willing to discuss the corruption issue publicly. Today, all of them declare that anti-corruption is a priority. Key public-private-NGO partnerships have emerged, from the UN Global Compact, to the Extractive Industries Transparency Initiative, to COST.
Twenty years ago, there was not a single head of a government that I can recall who was ousted and then imprisoned because of corruption. Very few politicians anywhere saw great risk in looting their national treasuries. Today, as we are seeing in Brazil right at this very moment, politicians are no longer so safe. Nor are corporations, as a record number of prosecutions are now being seen of firms that bribe foreign government officials, as there is a greater level of exchanges of information and evidence between prosecutors in different countries than ever before, and as even the biggest banks are now facing charges for money laundering, aiding tax evaders, and manipulating key interest rates. The rallying call of "no impunity" is spreading rapidly across the globe.
Twenty years ago we did not have the internet and mass email and social media and the tools to disseminate anti-corruption news. Today, the scale of reporting about corruption is large; the distribution of news about corruption is wider than ever across the globe through the internet; and, the expertise of investigative reporters is high. Organisations like Global Witness and ProPublica, and others like them in a rising number of countries, are exposing corruption as never before.
Most importantly, the courage of so many individuals over these last 20 years has produced a level of mass public engagement for justice, against corruption and against illegitimate governments on an unprecedented scale from Tunisia and Egypt, to India and Iran, to Russia and Wall Street. People power against corruption is a reality.
As you look ahead, you should be hugely encouraged from all of the vital building blocks that have been created that now secure the path for gathering momentum in multiple anti-corruption campaigns in many countries and at the international level. So, Happy New Year and good cheer.