In the three years since the devastating earthquake killed hundreds of thousands of people and destroyed much of Haiti's infrastructure we have had to contend with two cyclones, a cholera epidemic and a drought that currently threatens our food security. No wonder Haitians and donors are suffering from reconstruction fatigue when too often the small signs of progress are thwarted by the elements.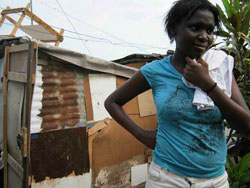 Building back better, President Bill Clinton's famous promise, has simply not happened. The centre of Port au Prince is deserted and in ruins and although about two-thirds of people who were in temporary housing – about 635,000 people – have left the tent encampments, they have had to return to precarious slums, not newly constructed homes.
So far Haiti has received only half the promised reconstruction aid, and most of that has been funnelled through non-governmental organisations because of fears that the Haitian government institutions are not capable of using it well and safeguarding against corruption. This has meant the government has not had the resources and ability to strengthen its institutions and the patchwork nature of funding has often made it harder to prioritise and coordinate large-scale projects.
In this environment, the challenge of tackling corruption is very real. Even before the earthquake, Haiti struggled at the very bottom of Transparency International's Corruption Perceptions Index with a reputation for endemic corruption. But changing a systemic problem presents similar challenges to rebuilding a devastated country: it cannot be done overnight.
In the past four years we have run an Advocacy and Legal Advice Center with a hotline for citizens to report corruption in public institutions and this has shown that grand and petty corruption are prevalent. But it is not enough just to identify incidents of corruption. I strongly believe that when you have a systemic problem, you need to have a system approach to solving it.
In 2011, we developed a Corruption Risk Map for Haiti's humanitarian and reconstruction operations to help non-governmental organisations identify high risk areas in their organisations for corruption and then introduce prevention measures. We also developed a methodology to monitor corruption in post-earthquake programmes and projects, and we spent much of 2012 training members of community-based organisations (CBOs)  to go out into the field and use this methodology.
Although we had hoped that larger aid organisations would pilot this process, in the end we found volunteers among grassroots groups, including youth groups and human rights groups, in 11 local communities.
The monitoring work done by these groups in their communities indicated that in many of these communities people had to pay bribes to get supplies, jobs were handed out to family members and friends, and some people were embezzling project money. We will continue to work with these volunteer groups in 2013 to empower them to address these issues, to advocate on behalf of the victims and to find solutions. We believe that corrupt practices sometimes occur at the local level and the management of the organisations that are running the programmes are not always aware of these cases.  There is a wide array of corrupt and fraudulent practices that may be missed by a financial audit.
We are now in the process of analysing the first round of feedback and with that we hope to expand the programme, which is funded by Christian Aid, to other CBOs.
Additionally, in partnership with the Office of the Inspector General (OIG) of USAID, we launched a new anti-corruption hotline last month, to enable employees and beneficiaries of USAID-funded programmes and projects in Haiti to report fraud and corruption. There is now a special toll free number (*550) and email address (anticorruptionhotline@hushmail.com). The complaints that are received are lodged with the OIG for investigation.
We are also launching anti-corruption training outreach to educate staff and beneficiaries of USAID partners on corruption risks and a series of print, radio and video messages to encourage people to report corruption. As USAID is the most important bilateral agency in terms of its investment in Haiti, we think it is an excellent signal that it is seriously addressing the issue of corruption in its projects in order to ensure that its aid effectively benefits Haiti and Haitians to the maximum.
Like the rebuilding of Haiti, all our work to address corruption is slow, methodical work that has to be done step by step; but we strongly believe that it will form the foundations of a better, more accountable and more equal society.
As 2013 begins, we hope that the elements will give us enough time to make this happen. It is building back better in a way that should reap long-term dividends because it will help break the cycle of corruption that has held Haiti back for so long.