This text was originally published in the 15th IACC blog and is authored by Vicki Baxter Amade,  GOPAC's Global Task Force Advisor for the Participation of Society.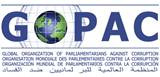 In November 2012, the Global Organization of Parliamentarians Against Corruption (GOPAC) led its first formal delegation to the IACC, with a panel workshop about the role of parliamentarians and GOPAC speakers on three other panels and the closing plenary. But it was at our information booth that the extent of the challenges we face with public perception of parliamentarians and corruption really hit home. Over four days we answered a plethora of questions from over 300 visitors, but there were three key themes which kept emerging.
Parliamentarians? Aren't you part of the problem?
This was unquestionably one of the most frequently asked questions at our booth. And yes, sadly, there are far too many cases where parliamentarians have been at the centre of corruption scandals. Whether through direct involvement in accepting bribes for votes or misappropriation of public funds; more subtle abuse of power or padding of expense claims; or simply failure to exercise their responsibility to provide effective oversight of the executive; parliamentarians can indeed be part of the problem. This is why GOPAC, through its Global Task Force on Parliamentary Ethics and Conduct, encourages all parliamentarians to adopt an effective code of conduct and why we argue against parliamentarians enjoying total immunity against prosecution. But parliamentarians can also be part of the solution. By enacting anti-corruption legislation, by exercising effective parliamentary oversight and by providing responsible leadership, parliamentarians have a significant role to play in promoting transparency and good governance and in combatting corruption.
Parliamentarians? Isn't this a meeting for civil society?
This was best summed up by one lady who flicked through our brochures but, when asked if she would like more information, responded that actually parliamentarians weren't really relevant to her work. I asked her about her work in combatting corruption in land rights and fishing permits and how she planned to achieve this without legislation, which led to an extended conversation on the role parliamentarians can play in fighting corruption. The reality is that, not only are parliamentarians part of civil society, they are the only members who can directly affect key anti-corruption legislation. Parliamentarians are elected by the people, to serve the people and to act as the voice of the people in parliament. GOPAC's Global Task Force on the Participation of Society works to ensure that parliamentarians stay conscious of the need to remain engaged with their constituents and to ensure that their voice is heard.   GOPAC promotes legislation which provides for public access to information; protects the media and other members of civil society who stand up against corruption; and empowers independent anti-corruption commissions.   We work closely with a wide range of civil society organizations such as the UNCAC Coalition, Revenue Watch Institute and Publish What You Pay and have recently concluded a formal Collaboration Framework Agreement with Transparency International.   The IACC concluded with a final plenary on collectively defining the global governance agenda – I would challenge anybody to come up with a realistic plan to tackle corruption which failed to include the involvement of parliamentarians.
Why Should Parliamentarians Join GOPAC?
For those who understood the role Parliamentarians had to play in representing civil society in combatting corruption, the next question on their lips was what GOPAC had to offer.   With over 500 members worldwide, organized through regional and national chapters, GOPAC provides unity, leadership, motivation and peer support to parliamentarians who are serious in combatting corruption. We are non-partisan, forming cross-party coalitions with the single objective of working against corruption. Our Global Task Forces provide capacity building workshops, guides and handbooks, and model legislation on a range of key anti-corruption issues. We share and learn from the experiences (both good and bad) of our membership at the national, regional and global level. This is why our membership is in constant growth, with two new regions and several new national chapters currently under development.   I hope that all active citizens are taking the opportunity to engage with parliamentarians and ask them whether they are members of GOPAC.  If not, perhaps you should be asking them why not….
GOPAC is a worldwide alliance of parliamentarians working together to combat corruption, strengthen good government, and uphold the rule of law.  Visit us at www.gopacnetwork.org, Follow us on Twitter  @GOPAC_Eng, and on Facebook  at facebook.com/gopacnetwork. Join us at our next Global Conference in Manila https://gopacmanila2013.com/ in January.