In Sub Saharan Africa 60% of the population are under the age of 35, making Africa the most youthful continent. Young Africans are the key to reform, as they soon enough will become key players and advocates of social transformation.
In December, 38 youth leaders from six different West African countries united in Yamoussoukro, Cote d'Ivoire, for a week long integrity camp. The camp was a joint project of the UNDP and Transparency International; The youth integrity camp aims to harness young peoples' energy and willingness for action to enable them to engage with the communities in their home countries, and spread the importance of integrity in all life situations. The camp provided the young participants tools, such as the sharing of the concrete experiences made by the Y'en a marre (Sick of it) movement, how to use ICTs in promoting integrity or familiarizing them with anti-corruption conventions, that will enable them to be real agents of change in their communities and organizations.
The camp brought together journalists, lawyers, artists, civil servants, and people from civil society.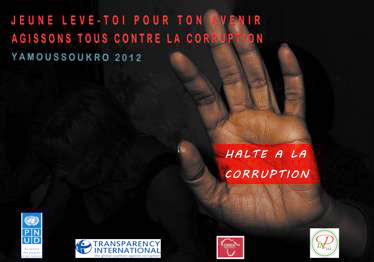 How do we translate integrity into action across different countries? The participants worked in country groups, and developed many diverse projects, ranging from having ambassadors of integrity in schools, spreading the idea of good governance, transparency and integrity to a wider young audience, to using different means of communications, such as theatre, or games, to pass along the message of the importance of integrity to the communities. Other projects target the administrations, or aim at improving the governance and transparency in civil society organisations. These projects aim to unite people, and can be put into place by the youth leaders themselves.
Another highlight was an afternoon visit to some of the institutions most often cited as most touched by corruption, namely the local hospital, the police commissariat, and the town hall, and district administration. There, the participants were able to observe the conditions in which these institutions operate, talk to the representatives, and identify possible causes of corruption. The main insights that the participants to the youth integrity camps gained from the representatives of these institutions were that failures in service delivery were mainly due to insufficient financial means, absence of workers, and persistence of nepotism when recruiting agents.
Carousel image: Copyright, Transparency International