To ring in International Women's Day on 8 March, Transparency International is featuring woman corruption fighters around the world. Thuli Madonsela is one of these women.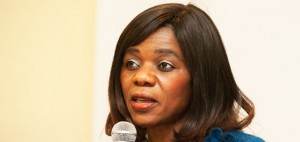 She speaks in whispering tones and is always immaculately dressed. When she walks into a room and begins speaking, people sit up and listen. Fearless and resolute, this is the woman who has taken on some of South Africa's most powerful politicians – and won. This woman is Advocate Thuli Madonsela, the country's Public Protector.
A human rights lawyer and activist, with beginnings as a unionist and assistant teacher, Madonsela helped draft South Africa's world-famous Constitution after the country became a democracy in 1994 – giving up a Harvard scholarship to do so.
The office of South Africa's Public Protector is tasked with strengthening constitutional democracy and good governance. It's a chapter nine institution, meaning it's independent from the state and has the power to investigate and make recommendations on improper dealings within government, which hamper service delivery, abuse taxpayers' money and perpetuate poverty and inequality.
For the year 2011/12, 16,000 of the 20,000 cases that landed on Mandonsela's desk were resolved, according to her office.
With a few years left until her term ends in 2016, this unassuming 49-year-old mother of two, reflects on her time in office so far and the importance of the role of women in fighting corruption:
How do you feel about media labelling you South Africa's "one-woman corruption crusader"?
It's a humbling label, but misleading. Even in the office, I do not act alone but am part of a dedicated and competent team. Beyond the office there are many others who play their part equally, if not more excellently, in combatting corruption.
Why do you think there are so few women leaders in South Africa who are willing to speak out strongly against corruption within government? Is it because it is risky, isolating?
Many speak strongly, quietly, but effectively as whistleblowers. There aren't enough women in powerful positions and the few in power often don't have enough organisational roots to challenge the men they find in powerful enclaves within the organisations they run. Speaking out is indeed risky and isolating.
What types of corruption in South Africa need the most urgent attention, in your opinion?
Procurement-related corruption needs urgent attentions. It eats all our resources through shady work, overcharging and false billing. It also destroys genuine entrepreneurship as it fosters survival of the weakest in terms of skills and business owners.
Retail corruption should also be given urgent attention as it risks corrupting the soil of the nation – as has happened in parts of West Africa.
What are three things, in your opinion, that foster a culture of corruption in the public sector?
Competency deficit in supply chain management
Lack of respect for rules and authority
Lack of consequences for wrongdoing
What is the one single case that has had the biggest impact on you since becoming Public Protector?
It was a complaint of abuse of power against the Commission for Conciliation, Mediation and Arbitration (CCMA). It highlighted the cost of indifference to me – power-holders fail to see and prevent the cruel impact of their decisions.
What are the three most important lessons you've learned since becoming Public Protector?
Never prejudge any case – always keep an open mind and when investigating, take all responses with a pinch of salt.
Every member of the team adds value and such value cannot be realised through criticism.
Indifference and self-interest are the worst forms of public sector maladministration.
How do you deal with knowledge that you can't help each and every individual who comes to you with a valid case, irrespective of how serious it may be?
I'm saddened by many of the injustices that are brought to my attention but fall outside my jurisdiction. My team and I try to help through advice and referrals.
What message do you have for women who are victims of corruption in South Africa – and how can they fight it?
Play your part as sincerely as possible. Understand and act within the law, primarily the Protected Disclosures Act to limit the risk of victimisation or retaliatory action. Report any wrongdoing, not as vindictive action for perceived personal wrongs, but as a heroic act to protect public resources.
Do you see holding government accountable in South Africa's public sphere as mostly a man's game?
Not at all. Women are playing their part. Many don't do so publicly, but act as whistleblowers or voices of reason whether or not decisions are contemplated or made.
How is it being a woman in the South African political arena (even though your office is a chapter 9 institution)?
It is an honour, but a position that has invited a lot of attention. It seems that the firmness with which I make decisions was not expected from a woman. The positive feedback is extremely humbling and energising. Women also say they are inspired to stand firm on what they believe is right.
Read more of Thuli's interview on Corruption Watch's site