In a guest blog post, Beth Lowell of Oceana reports on alarming rates of fish fraud in the United States.
When you go out to your favorite seafood restaurant or pick up fish from the grocery store, you expect to leave knowing that you got what you paid for. But what if the fish you received was actually a completely different species than what was on the label? Unfortunately, this type of bait and switch happens more often than most people realize, and it can occur when one type of fish is swapped for a less expensive, inferior or more readily available species. According to a new report, Oceana found that one-third of fish sampled from across the United States was mislabeled according to U.S. Food and Drug Administration (FDA) guidelines.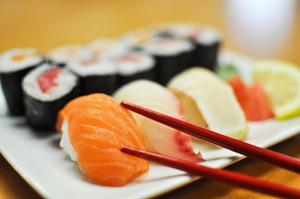 From 2010 to 2012, Oceana collected seafood samples from 674 outlets in 21 states, and using DNA testing, found that 33 per cent of the 1,215 samples were a different species than what was on the label. In every region we tested, we found fraudulent fish being sold. In total, 44 per cent of retail outlets Oceana visited, which included restaurants, grocery stores and sushi bars, sold mislabeled fish. Sushi venues were the worst offenders, with a 74 per cent of the fish we purchased mislabeled, and restaurants and grocery stores were second and third respectively, with mislabeling rates at 38 and 18 per cent nationally.
Besides cheating customers, seafood fraud can also jeopardize consumer health. Oceana found that two fish that the FDA advises sensitive groups like pregnant woman to avoid due to high mercury content were actually sold as safer options. We found tilefish labeled as red snapper and halibut in New York City and king mackerel sold as grouper in South Florida. Additionally, escolar, a snake mackerel known to cause digestive problems for people who eat more than six ounces (170 grams), was labeled as white tuna 84 per cent of the time. Escolar is even banned in Japan and Italy because of its health impacts.
The bait and switch of seafood also hurts our oceans. Mislabeling of seafood allows for illegal, unregulated and unreported (IUU) fishing products to enter the legal seafood supply. IUU fishing is a serious problem that impacts fish and marine wildlife around the world. Mislabeling fish allows pirate fishermen to make a profit from their illegal and harmful practices.
For consumers trying to make make sustainable seafood choices, seafood fraud complicates their efforts. Inexpensive, overexploited or vulnerable species are sometimes used to replace more sustainable species. For example, Atlantic halibut was often sold as Pacific halibut, even though the Atlantic population is overfished. Consumers who try to make purchasing decisions that align with their values are often misled when they purchase mislabeled seafood.
In order to protect our oceans and consumers, traceability of seafood supply chain from boat to plate is needed to ensure all seafood sold is safe, legally caught and honestly labeled. With information following the fish, every stop along the supply chain will know information such as where the fish came from, how it was caught and what species it is, while providing consumers with more information about the seafood they purchase. Oceana is advocating for mandatory traceability of all seafood sold in the United States.