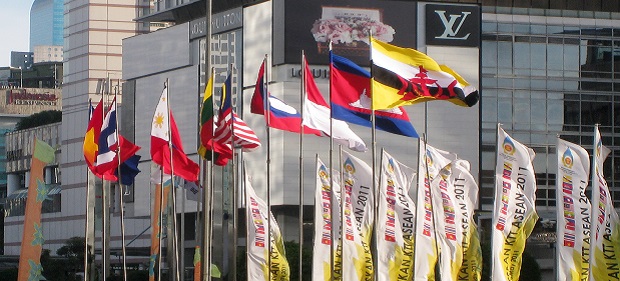 When the leaders of the 10 nations that make up the Association of South-East Asian Nations (ASEAN) meet in Malaysia in April for the 26th ASEAN Summit, they need to be bolder in their approach to combatting corruption.
Corruption will hold back investment in the region and stifle growth in both the public and private sectors if it is left unchecked. But it can't be addressed if it is not on the agenda.
With the announcement last week of the eight 2015 ASEAN Priorities we again see a set of worthy priorities – on business, on fair trade, on regional integration – whose success will very much depend on the willingness of leaders to also put anti-corruption on the agenda alongside them.
That's why we are suggesting that ASEAN, like the Group of 20 largest economies, develop and implement a comprehensive anti-corruption framework, defining ASEAN's own anti-corruption agenda. At the same time it should create a mechanism by which to evaluate progress, with an inclusive role for the private sector and civil society.
This will help it deliver on the 2015 ASEAN priorities because you can't have strong institutions, burgeoning trade, a vibrant private sector and global influence if corruption cripples business and threatens the rule of law.
This is a fear shared by citizens across the region and beyond. In our latest survey, a third of the people in ASEAN countries say that governments are ineffective in their efforts to curb corruption and according to the ASEAN Business Outlook Survey, released by the American Chamber of Commerce in Singapore and the US Chamber of Commerce, "corruption continues to be the greatest concern for US companies across ASEAN, except in Brunei and Singapore".
We believe that it takes a cross-cutting and holistic approach to ensure that a sustainable anti-corruption initiative works. This means bringing together governments, the private sector and civil society to first acknowledge the importance of the issue and secondly to commit to addressing it.
Governments have made some important steps already and business is beginning to take a lead too. All ASEAN countries are signatories to the United Nations Convention against Corruption. This provides a solid legal framework to fight corruption, but it needs to be implemented in every country. We are seeing that strong action in the US and the UK under their respective Foreign Corrupt Practices Act and the Bribery Act is driving corporate compliance and corruption risk mitigation in South-East Asia where multinational companies do business.
There are also multiple collective action business initiatives springing up across the region including the ASEAN CSR Network, Thailand's Private Sector Collective Action Coalition Against Corruption, and the Vietnam Integrity Alliance, to name a few.
These initiatives for clean business can play a progressive role – that of a change agent – leveraging their influence and innovation to promote a transparent and accountable level playing field for businesses across the ASEAN region. They are already beginning to help create a positive business environment, but increased government support and cooperation is needed.
This means enforcing best business practice using all means necessary, including legal frameworks.
Establishing an ASEAN Integrity Community
ASEAN countries should be sending a clear message about the standards they will hold companies to and the expectations they will have for the practices of foreign companies doing business in the region. This means a far greater emphasis on fighting corruption.
We would suggest that establishing a collaborative ASEAN Integrity Community supported by governments, business, civil society and citizens alike will bring all these strands together.
The first step could be for ASEAN governments to include discussion of an ASEAN Integrity Community on the June ASEAN summit agenda. This would not only show commitment to fighting corruption, but support the eight ASEAN priorities outlined by Malaysia, the current chair of ASEAN, particularly the efforts to promote business and sustain economic growth.
It would also provide a platform where contributions from business and civil society are welcomed alongside governments to identify and respond to the specific needs of South-East Asia. It could drive collective anti-corruption actions drawing on both expertise and resources from within the region and beyond.
For example, such a community could help to reduce the threat of corruption to the infrastructure development planned to increase regional inter-connectedness (from railway construction to telecommunications expansion). The World Economic Forum reports that with the establishment of the ASEAN Economic Community, countries in East Asia require an estimated US$8 trillion to fund infrastructure needs by 2020. In a region with high levels of corruption, there is a serious risk of public funds being siphoned off.
Such an integrity community could help to drive the harmonisation of corporate governance and compliance standards throughout the region by bringing together policy-makers and the business sector as well creating incentives for implementation.
Such an integrity community could also help direct greater training and resources to officials addressing cross-border corruption – especially cases involving illicit international networks and complex transactions. Cross-border corruption requires both effective international cooperation and technical capacities, including investigators with appropriate language skills, international legal knowledge and cultural sensitivity to cooperate effectively across borders.
ASEAN needs to set this agenda for itself and establish better regional cooperation on this issue so that it can identify a set of strategic, regionally relevant issues with a clear set of indicators that are publicly available. To build momentum for this initiative, clear commitment and leadership from governments, the business sector and civil society needs to start now.
Carousel image: Wikimedia Commons / Gunawan Kartapranata. View the original version here.
Editor's note: On 3 February 2015, the above post was amended to correct the name of the Vietnam Integrity Alliance, which was originally misnamed in the text.