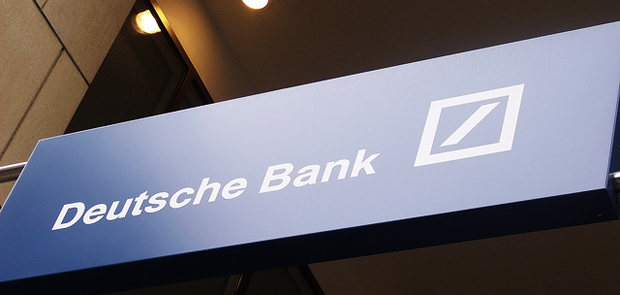 Germany's biggest bank, Deutsche Bank has agreed to pay a record US$2.5 billion in fines to US and UK authorities after one of its subsidiaries pleaded guilty to wire fraud for its role in manipulating LIBOR.
This is more than your everyday bank scandal: LIBOR has an impact on millions of people, if not billions because it affects the cost of all kinds of financial products from mortgages to student loans. The question remains: does the punishment fit the crime? We think not: why allow a company to settle when they fail to cooperate with the investigation? Also, given the gravity of the situation a big fine won't do, criminal charges should be considered as well.
LIBOR is the interest rate banks charge each other on short-term loans. Banks then take this money and lend it out to consumers in the form of long-term loans like a student loan, mortgage or credit card loans. Banks make a great deal of profit from borrowing money on a short-term basis and lending it out to you, me and businesses on a long-term basis. It is estimated that US$10 trillion of loans are tied to LIBOR.
It is also a barometer of the health of the financial system: banks paying more to borrow from one another can be a sign that trust among institutions is breaking down.
In the recent decision, the British regulator said at least one division at Deutsche Bank seems to have had "a culture of generating profits without proper regard to the integrity of the market."
Although the bank stated that no senior management or Board member was aware or involved in the misconduct, inside the bank the problem seems to have been well known. In 2009, a Deutsche Bank vice-president wrote to a trader that the Tokyo interbank rate "is a corrupt fixing and D.B. is part of it!"
Settlements enough of a deterrant?
The Deutsche Bank settlement raises two questions:  are settlements an effective tool to deter this kind of behaviour and, what measures can change unethical behaviour?
Transparency International believes that one of the factors prosecutors should weigh when making enforcement decisions is whether the company fully cooperates with the investigation. The rationale for a settlement is partially that a company is incentivised to disclose information in turn for being spared a lengthy public trial with increased reputational damage.
Deutsche Bank didn't fully cooperate with the investigation. The British regulator said that Deutsche Bank had taken two years to provide audio recordings requested by investigators, had accidentally destroyed evidence, and had claimed to have adequate controls over activities related to benchmark interest rates when it had no controls at all. Furthermore, the bank didn't set up a formal policy to prevent similar misconduct until mid-2013, long after authorities had started filing criminal charges against banks and individuals for their roles in the Libor scandal.
Transparency International also believes those who manipulate LIBOR need to pay more than just a fine. If a settlement is negotiated as opposed to prosecution, it has to provide effective, proportionate and dissuasive sanctions.
Sanctions on individuals
In Transparency International's view the most effective deterrent for unethical behaviour are sanctions on individuals. The US regulator is calling for the bank to fire seven executives and there is still a possibility that criminal charges will be pursued. If these are senior enough people and the criminal investigation proceeds, this would send a strong signal to the banking community that bad behaviour results in personal punishment.
Corporate culture is determined from the top. That is why, in order to achieve changes in behaviour, accountability lines within companies have to be improved. If one Board member was responsible for all aspects of reputational risk, including collusion by traders, everyone would know exactly where the buck stopped and the board would have a stake in ensuring vigilance.
Although the amount of the fine seems exorbitantly high, the deterrent effect of fines is questionable in this case too. The expected impact on Deutsche Bank's earnings will be small.
The settlement imposes an independent monitor on Deutsche Bank to ensure the bank implements changes to prevent similar wrongdoing from occurring in the future. Since the LIBOR and other scandals, Deutsche Bank has committed to cultural change. It has separated the employees who make trades from those who submit information on market interest rates used in benchmarks. It has set up a compensation review panel to make recommendations on how to integrate ethical behaviour and sustainable risk management into compensation policy.
Incentivising integrity
Transparency International believes that incentivising integrity in the performance management system could achieve cultural change. As long as financial and other incentives encourage high risk-taking and the costs for engaging in illegal or unethical behaviour remain negligible, it will be extremely difficult to achieve a banking sector that serves society.
It is too early to tell if the system Deutsche Bank has introduced will work, but it is a recognition that there is a link between compensation and risky behaviour. Deutsche Bank and other banks should publicly report on the measures they take to implement cultural change. This would help restore public trust and identify industry-wide best practices.
While the fine for Deutsche Bank looks extraordinarily large, what really counts is whether it, coupled with firings and the threat of criminal action, will change behaviour and save society from shouldering the externalities of unethical behaviour by bankers.
Carousel image: Flickr / Elliott Brown