One of the big topics at this week's Conference of State Parties to the United Nations Convention against Corruption (UNCAC) is asset recovery. Delegates will discuss what more needs to be done – and there is a great deal — to speed up the return of stolen assets to their rightful owners and where UNCAC fits in.
They would do well to read Obstacles in Asset Recovery: Legislation and Law Enforcement in Russia, Ukraine and Other Countries, a new book I co-edited that brings together best-practice recommendations on how to make the law work in favour of those looking to repatriate assets.
It explains what "illegal assets" are and what mechanisms exist for identifying, locating, freezing, and returning these assets. It also deals with the thorny issue of where and for what purpose the assets are returned.
I will focus here on the recommendations for the Russian context (that chapter, and the one on Ukraine are available in English).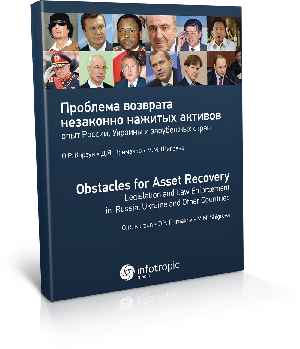 Allow for flexibility in legislation
Assets may not stay the same all the time. Stolen cash, for example, can be used to buy property or luxury items. Gold can be exchanged for diamonds. That's why legislation must allow for the possibility of using replacement assets. Current legislation does not address the return of assets that are converted or mixed from original assets derived from illegal activities.
It may also be that illegal assets are sold on to a third party. It's therefore important that third parties are protected/indemnified if they were bona fide purchasers and did not or could not know about the illegal origin of the assets they acquired.
Short statutes of limitation on corruption and financial crimes can also hinder the return of stolen assets. Our recommendation is to have realistic statutes of limitation, we suggest no shorter than four to five years, taking into account the length of large-scale investigations, as well as the complexity of the procedures for international cooperation and mutual legal assistance.
Politically exposed people should also be subject to continued scrutiny for a determined length of time if they are dismissed from jobs because of corruption. In Russia, former government officials have to report some activities, for example if they apply for a new job, for a period of two years. But this does not apply to activities like opening a bank account. It should.
Sometimes investigations and legal proceedings to recover stolen assets can cost more than the value of the asset. There should be a system whereby before legal proceedings begin, prosecutors can conduct an economic evaluation to ensure it is worth going after the assets in the first place.
Bring in the experts
Getting back stolen assets is complicated and requires specialist knowledge. Russia, for one, needs to create a separate service capable of understanding how to do this. These experts should have powers that will allow them to work on a par with their foreign counterparts to be able to give and receive informal legal advice. To help create such departments, financing can be allocated from the initial distribution of the funds received from the asset return.
And once the assets have been seized, there needs to be enough expertise available to deal with them so that they don't lose their value, be they companies or perishable goods. There's no point it getting back a company that fails because there is no one capable of managing it or managing its sale successfully.
Exchanging information
People who work in asset recovery – tax authorities, investigative bodies, financial intelligence and customs authorities – need to be able to exchange information easily. A constant data flow between public authorities will help to track suspicious transactions and allow for investigations to be opened more swiftly.
Currently, Russia does not keep official statistics on the recovery of assets, which undermines efforts to evaluate the success of asset recovery efforts, the work of investigators in the field, and the effectiveness of changes in legislation. If it kept records this would help with future investigations.
Only when there is greater transparency and greater cooperation between everyone involved in asset recovery will cases be concluded in a timely manner. This goes for Russia and for most other countries too.