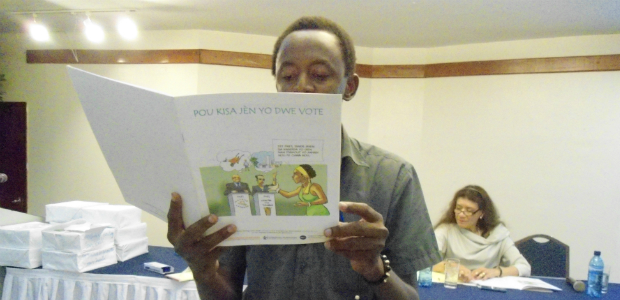 It is hard to imagine that Haitians will actually go to polls on 27 December to vote in the second round of the presidential and municipal elections. There has been so much talk of electoral fraud, violence and intimidation from the first round in October, ordinary people just don't know what to believe.
On 17 December the president appointed a special commission to review the situation.
This sad situation is a consequence of having weak institutions that are unable to respond to the instability and economic downturn that is ruining any semblance of hope for a better future. Corruption remains rife; political in-fighting the norm. More and more people are sliding into poverty and despair.
It is also hard to win the argument that we have leaders who can and want to address the real problems Haitians face and that citizens should take them seriously. At the beginning of the year, for example, the government replaced the head of the anti-corruption agency who had demonstrated a real commitment to tackle the issue of corruption and hold the corrupt to account.
Not surprisingly, the turnout in elections is low. For the October vote it was about 30 per cent, up from a dismal 18 per cent from the previous round. This alone shows that people in Haiti are disengaged with the political process, primarily because they do not think their votes will make a difference. We haven't had turnouts for elections above 50 per cent since 2006.
Despite this our organisation La Fondation Héritage pour Haïti (LFHH) wanted to educate our young population on why democracy matters and why having an engaged electorate helps in the fight against corruption. Haiti has an estimated 1.3 million young people who turned 18 since the 2010 elections and are eligible to vote this year.
We produced a book in Creole with the help of distinguished Haitian writer and playwright Gary Victor and we distributed it through our network of Young Haitians against Corruption. The book talks about the importance of elections for a sustainable democracy and the need for voters to inform themselves about the candidates in order to make wise choices. The book also explained how essential it is to vote for candidates with reputations of honesty and integrity and to hold them accountable once elected.
We also produced television and radio spots and tried to spread this message across the country in the run-up to the October first round votes.
Now we wait to see if the special commission will contribute to a denouement of the current crisis and whether there will be a second round of voting in coming days. There has been so much acrimony, protests and violence over the published results of the October vote that we fear the young people will cease to participate in the process – a disappointing initiation to democratic engagement. When there is so much uncertainty, it is hard to feel optimistic that as we go into 2016 the dire situation of instability, poor governance and poverty will improve.