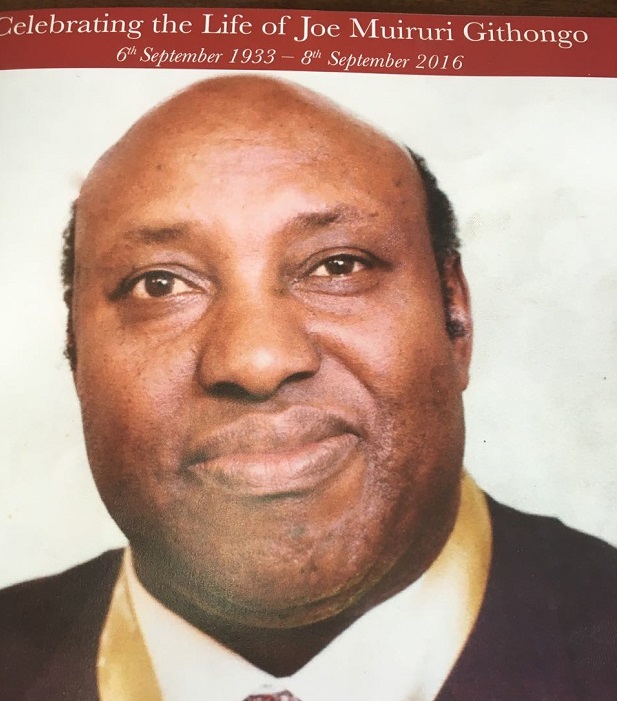 Joe Githongo passed away on 8 September in Nairobi following a long illness. Joe was one of the initial inspirations for Transparency International (TI)and a member of its first Board. He was a charismatic figure whose energy and enthusiasm was always contagious and impacted on many both within and outside Kenya.
In 1989 Joe was very concerned about the state of corruption in Kenya at a time when Peter Eigen, then Regional Director for the World Bank, was expressing major concern about the indifference of his own organisation, and other donors, to the impact of corruption on development in Africa and elsewhere. Peter discussed the possibility with Joe and myself – and soon others from different parts of the world –   of establishing a new international NGO which might make the case for controlling corruption in the context of development. A paper we wrote at the time became one of the bases of Peter's first anti-corruption presentation in Swaziland in 1990, leading eventually to the formal launch of TI as an international NGO in 1993.
Joe was one of the initial Board of Board of TI and later remained active in its affairs in Kenya. Joe and Mary's elder son, John, had become a very active journalist on corruption issues, and was the Permanent Secretary for Ethics and Governance in the first administration of President Mwai Kibaki in 2002. But John was to find the political opposition to his anti-corruption agenda so hot that he had to quit the country for three years from 2004 writing a public letter to Kibaki and continuing the anti-corruption fight from a UK base, eventually returning to Kenya to continue the campaign. Joe remained a stalwart supporter of John throughout this period.
Joe was born into a Kikuyu family in Kiambu in 1933 and was educated at Kabaa High School. The school had been established in the mid-1920s by the Catholic Missionary Holy Ghost, and he had spent much of holiday time picking coffee on local European owned estates. He was 17 when the British colonial government declared a 'state of emergency' in 1951 in response to the Mau Mau movement.
A part of British strategy was the creation of huge stockaded camps in which large numbers of Kikuyu men were detained. Joe was one of them and was held for four months with hundreds of other suspected Mau-Mau detainees at Manyani Prison – about 400 kilometres from his home.
Eventually released he acquired some basic accounting skills and was determined to use them in a good cause. He found it for some time in the UN Peacekeeping Operation in Kinshasa, DRC. But wishing to improve his skills he eventually found his way to London and enrolled at Hendon College of Technology –part of what is now the Middlesex University in North-West London – where he pursued accountancy studies. In 1963, he persuaded his fiancée, Mary Wairimu, a teacher, to join him. But life was not easy and Joe landed a paying job as a guard on British Rail. For Joe and Mary their five years in London, from 1963-1967, were productive. Armed with accountancy qualifications and three babies (John, Gitau and Wanjiru) they returned to Nairobi and began an arduous but happy family life (with Mugo and Nyambura born later).
Initially working in the accounts department of East African Railways, Joe took the initiative to establish his own (and one of Kenya's first indigenous) accounting and auditing business in 1969 – Githongo and Co. Within 10 years, the firm was an integral part of the Kenyan audit network with a particularly focus on parastatal companies and had built a strong working relationship with Binder Hamlyn. Joe and his partners later drove this growth forward, successfully diversifying into management consultancy along the way. However Joe's interests were very wide. He had a deep commitment to East African development, to Kenya within it and to the Catholic Church for which he sponsored a great deal of charitable work. He was also a key organiser of the 43rd Eucharistic Congress held in Kenya in 1985, which coincided with the visit of Pope John Paul II.
He was a founder Chairman of the Kenya Gatsby Trust (KGT), launched by the Gatsby Charitable Foundation of the UK in 1991, a philanthropic grant maker focussed on small and craft businesses all over Kenya. KGT also became the prime initiator of the eucalyptus clonal forestry project at Karura which, successfully borrowing technology from South Africa, now sells more than 3 million cuttings per year.
In remembrance of 'larger than life' figures it is always difficult to convey their impact on those they encounter. However, there are very few who were unmoved by Joe's personal magnetism and his faith that individual action – taken with others – could and would improve Kenya and the world. Being part of shaping Transparency International was one of those actions.