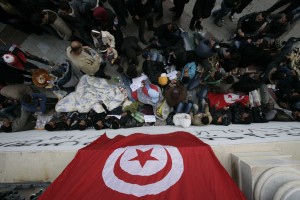 This post was written by Toby Mendel, founder and president of the Centre for Law and Democracy.
The revolution is underway in Tunisia and there is a wonderful feeling that anything can be done in terms of securing freedom of expression and other human rights. The bad guys are out, the good guys are in and democratic change is in the air.
Or is it?
Reading the draft Press Law prepared recently by the High Commission for the Realisation of the Objectives of the Revolution and Democratic Transition, one might be excused for wondering. I was in Tunisia recently, and I have no doubt that good intentions lie behind the draft Law. And it does address some of the worst problems in the 1975 Press Law, including by removing government discretion to refuse to register newspapers.
But serious problems remain. Nearly one-half of its 69 provisions impose a strict regime of criminal restrictions.
Prison terms have been reduced, but there are still over a dozen crimes for which journalists may be imprisoned, in some cases for up to five years.
Many of these are for defamation, which should simply be a civil offence.
Not only newspapers, but a vast range of other forms of communication – including books, CDs and even digitally stored material – must be registered. Media outlets may be terminated for failing to provide copies to the public prosecutor, and anyone who has even been mentioned in an article may claim a right of reply.
After decades of dictatorship, it can be hard to introduce fully human rights compliant systems, including in the area of media regulation. But the Tunisian people stood up for democracy, in too many cases at the cost of their lives, and they deserve more. During my visit I met the last Tunisian journalist to be released from jail. He should retain this status.
The draft Press Law should be completely revised. The first, simple step should be to remove all of the penal provisions.
Read a full analysis (in English original and Arabic translation), as well as a copy of the law, here.
Toby Mendel founded the Centre for Law and Democracy in January 2010. Prior to that he worked for human rights NGO ARTICLE 19 on freedom of expression and the right to information.

Photo credit: Nasser Nouri