Daniela Christen, from Transparency International Switzerland, presents a practical guide for NGOs on dealing with corruption in development cooperation.
The British government will ask for a return of large amounts of money they had given to the Kenyan government for a free education scheme. Between 2005 and 2009 corrupt officials of the Kenyan education and health ministries had stolen as much as $47 million according to an article in yesterday's Irish Times.
If funds are siphoned off, the consequences for governmental organisations or NGOs working in development cooperation can be severe: projects costs will increase, the organisation's reputation will be tarnished and it can also have financial and legal consequences for the NGOs. Needless to say, that those in need, may see very little of the funds that were donated specifically for their benefit. Addressing corruption and enhancing transparency within the organisation are essential elements in improving the quality and effectiveness of development cooperation.
For a long time corruption within development cooperation was a taboo topic. Many development organisations feared that they would see a decrease of their financing if they would openly speak about the problems they are facing. Unfortunately, these fears also prevented an effective fight against corruption.
Only recently has there been a change among development organisations on the topic of corruption.
In Switzerland, development organisations, including many non-governmental organisations (NGOs) have come to recognise the dangers of corruption and have undertaken preventive measures. These actors now require transparency on the part of their institutions as well as among their partners, trying to assure that corruption is prevented and their development efforts are most effective.
As part of this work, Transparency International Switzerland and Bread for All (BFA, the Development Service of the Protestant Churches in Switzerland) have developed a practical guide for non-governmental organisations. This publication provides guidelines for NGOs who want to use effective methods to fight and control corruption within their organisations.
An anti-corruption programme offers NGOs a standardised working framework which should facilitate the effectiveness of development cooperation, even in difficult environments. The guide is based on the guidance put together by Transparency International for companies to combat bribery. It also builds on the work that TI has done globally with humanitarian assistance agencies to prevent and mitigate corruption.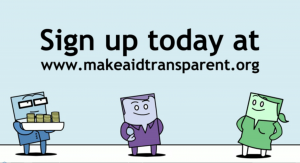 This practical guide for development NGOs provides organisational, regulatory and communication measures to improve the transparency and integrity of the organisation. The guide is directed primarily at managerial staff and those responsible for programming and operations.
To complement the guide, TI Switzerland and BFA have compiled a checklist for self-assessment. This checklist (based on the self-audit checklist for preventing corruption in companies of TI Germany) allows NGOs to recognise the risks of corruption within their structures. The aim of the checklist is to identify areas that are particularly at risk and to detect any weak points in their internal control system. Thus, the checklist can serve as the first step for developing an organisation's anti-corruption programme.
The practical guide and self-assessment checklist are available in German, French and English on the websites of TI Switzerland and Bread for All.