Andrea Figari is a Global Programmes Manager in the Global Outreach and Campaigns Department at Transparency International
What does it take to find out…
what your country is doing to fight corruption?
whether the school that your children go to has received the right budget allocation?
who your Prime Minister or President meets during the week?
where political candidates get their funding?
the terms of a contract for a new water and sanitation system?
how your country's budgets are spent and where?
In over 80 countries around the world it is possible to get this information by  submitting a request to the appropriate institution using an access to information or freedom of information law.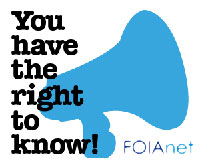 Today we celebrate International Right to Know Day –established in 2003 by the The Freedom of Information Advocates Network, promoting the right to information. The aim of Right to Know Day is to raise awareness of every individual's right of access to government-held information: the right to know how elected officials are exercising power and how tax-payers' money is being spent.
The right to information is at the heart of a healthy democracy and is a fundamental pillar in structures that help prevent and fight corruption.
It is the daily efforts of thousands of citizens around the world requesting information that are the only way to make sure these laws are more than just good words on paper –and days like Right to Know Day are here to remind us all of the importance of persisting in having our rights recognized.
By requesting and receiving information we can make better, informed decisions and can also keep our governments accountable. Transparency International has studied the state of access to information in over 70 countries as part of the research on National Integrity System assessments.
Anti-corruption conventions like the UN Convention against Corruption and the Inter-American Convention Against Corruption provide a checklist for reforming governments and represent a tool for civil society groups to hold their governments accountable.
Since the last Right to Know Day in 2010 seven countries passed such legislation, with 18 more considering doing so.  After an 11 year campaign, the law was finally passed in Nigeria, with Liberia, Guinea, Guyana, Mongolia, Jersey and El Salvador joining the community of countries recognising the right to know. In Morocco and Ukraine, progress came in improvement of administrative processes, and in Tunisia citizens voted for a new constitution including the right to information. Argentina, Bolivia, Botswana, Brazil, Cambodia, Colombia, Ghana, Kazakhstan, Mali, Morocco, Mozambique, the Philippines, Rwanda, Senegal, Sierra Leone, Spain and Tanzania are currently debating such laws. Perhaps the greatest disappointment during the last year was the defeat of efforts in Sri Lanka to approve legislation.
Today hundreds of advocates promoting the right to information are raising their voices –focusing on a wide spectrum of topics and scattered around the world. One initiative promotes better information around how aid is distributed, another offers the chance to Ask the EU directly about its initiatives.
In Latin America, a regional alliance of 24 organisations and over 80 experts regularly supports campaigners to strengthen the right to know in the region. Last week, the African Platform on Access to Information vowed to campaign to increase the number of countries with access to information laws in the continent –currently only South Africa and Nigeria have laws like these. At international level, the recently launched Open Government Partnership and its 10 participating countries seek to bring some progress. The quality of access to information laws varies enormously, according to a new rating system devised by Access Info Europe and the Centre for Law and Democracy. The Open Justice Initiative Access to Information monitoring tool measures the degree of implementation of such laws. Within the global human rights framework, this year the UN Committee for Human Rights reinforced the right to freedom of expression and information .
A recent case against Chile at the Interamerican Court of Human Rights resulted in a landmark precedent ruling explicitly recognizing the right to access information. Access to information also plays an important role in how citizens report corruption, revealing that reporting corruption is better in regimes with more transparency, as outlined in the paper Transparency, citizen-reporting and the fight against corruption submitted by Transparency International at the First Global Conference on Transparency Research.
Moreover, several initiatives, including one supported by Transparency International Georgia, are promoting the publication of government data for citizens to use. Other countries have joined the worldwide Open Data initiatives, strengthening the trend linking transparency and technology underlying the improvement in information availability and the way it is presented to the public.
Our next step will be a new  report testing how access to information laws help campaigners monitoring the implementation of the UN Convention against Corruption.
Which of these initiatives do you think will have the biggest impact? Have you been involved in an initiative to promote greater access to information?
Have you ever used filed an access to information request? How do you exercise your right to information?