On Wednesday 2 November Transparency International will publish the Bribe Payers Index 2011, which ranks the perceived propensity of 28 leading export countries and 19 business sectors to bribe abroad.
Written by Deborah Brautigam, Professor of International Development at the American University, Washington DC, for Transparency International's 2009 Global Corruption Report, this excerpted article looks at corruption issues in China's emergence.
Chinese businesses have gone global – in a big way. Multibillion-dollar investments by Chinese companies in Angola (oil), South Africa (banking) and the Democratic Republic of Congo (minerals) have made headlines, but these are just the tip of the iceberg. Forty nine Chinese contractors are listed among the world's top 225 firms, carrying out major construction projects from Dubai to Timbuktu.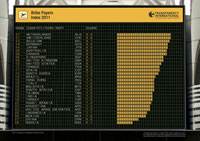 Turnover for Chinese companies involved in large construction projects overseas rose from US$8.4 billion in 2000 to US$40.6 billion in 2007. China's telecommunications multinationals Huawei and ZTE have won dozens of major contracts with governments in the developing world. In 2007 alone the Chinese Export Import (Exim) Bank disbursed almost US$26 billion, making it among the world's largest export credit agencies.
The overseas corruption challenge
China's official pronouncements and practices are mixed when it comes to condemning bribery by its corporations overseas. On the one hand, while meeting with a large group of Chinese entrepreneurs in Africa in 2006, Premier Wen Jiabao laid down clear expectations: 'Our enterprises must conform to international rules when running businesses, must be open and transparent, should go through a bidding process for the big projects, forbid inappropriate deals and reject corruption and kickbacks.'
In addition, China's Ministry of Commerce has promised to blacklist for at least two years companies implicated in bribery or collusion in the tendering for materials and equipment under China's foreign aid programme.
On the other hand, the Exim Bank, which channels a large share of China's foreign aid as well as export credits, may still not have wholeheartedly adopted Wen Jiabao's call for transparency. When queried in 2007 about his bank's policies on transparency, Exim Bank president Li Ruogu commented: 'In China, we have a saying: "If the water is too clear, you don't catch any fish."'
To address corruption concerns, the Exim Bank is working to reduce embezzlement risks by not disbursing loans in some countries to the borrowing government itself but, rather, by keeping funds in a Chinese account under the country's name. Payments to Chinese companies that supply goods or build infrastructure are made directly from that account, after being authorised by the borrowing country.
Additionally, Exim Bank loans for large infrastructure packages are sometimes repaid in oil or other natural resources. These practices make loans more secure, while also helping to ensure that receipts from natural resource exports are actually used for development.
Promising legal reforms
Legal changes now under way may boost efforts to combat bribery by Chinese firms outside the country. China was a sponsor, and has signed and ratified, the UN Convention against Corruption (UNCAC), which stipulates that bribery overseas be made a crime.
Chinese officials have repeatedly said that China will modify its laws to comply with all the convention's obligations. In September 2007 China set up the National Corruption Prevention Bureau, tasked to improve international cooperation against corruption and fulfil China's responsibilities as an UNCAC signatory. The agency was not made autonomous, however.[1]
Bad role models
China's reform efforts are taking place amid a new wave of bribery scandals involving well-known Western firms in China. In 2006 a Beijing consulting firm, Anbound, reported that 64 per cent of the nearly 100,000 corruption scandals investigated by China's government over the previous ten years had involved foreign companies. China seems to have started up the steep road of reining in corporate corruption, but, with bad role models from the wealthy world so close at hand, we should not be surprised if these reforms proceed slowly.
The urgency of the challenge is clear, however. China's growing appetite for entrepreneurial risk-taking and its increasingly pivotal role in expanding foreign direct investment and trade to developing countries need to be matched by a strong commitment to anti-corruption standards when doing business abroad.
Since this article was written, China has made it a criminal offence for Chinese companies and Chinese nationals to bribe foreign officials, under the law that took effect on 1 May 2011. Individuals may face criminal detention of between three to ten years, while companies may receive fines, and managers directly responsible for an offence may also face criminal detention of up to ten years. Effective implementation of this provision also requires sufficient enforcement processes and resources, international cooperation and moreover the continued willingness of the authorities to treat this issue as an important priority.
You can see the original, fully referenced version of this article here.