All too often, climate finance initiatives are hampered by waste and corruption. More accountability is needed, argues Cobus de Swardt, Transparency International's Managing Director. This article was originally published in The Guardian. 
World leaders meeting for this year's climate conference in Durban will be under pressure to pool enough new funds to protect people from the floods, droughts and storms that climate change brings. With so many lives and livelihoods at stake, mostly among the world's poorest communities, they must make sure the funds are not only well spent, but accounted for.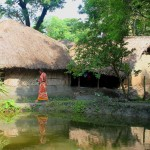 When funds for flood defences in one small community in coastal Bangladesh were misused, sea walls were built too low and too weak. The villagers still live knee-deep in stagnant water that also ruins their crops. If the community had known what was happening – how much money was allocated and for what – it is unlikely they would have allowed sub-standard work.
This is a story of losing battles: our planet losing battles to climate change and corruption. It is a story that will become all too familiar in years to come, unless world leaders take action. Read more