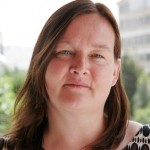 Madam Ellen Johnson Sirleaf , who was recently jointly awarded the 2011 Nobel Peace Prize, has been re-elected as President of Liberia and has pledged to fight corruption during her second term. The challenge, says Annette Jaitner, Senior Programme Coordinator in Transparency International's Africa and Middle East Department, is making sure that young people are included.

On 10 December, the Nobel Peace Prize 2011 was handed over in Oslo. It was awarded jointly to the President of Liberia, Madam Ellen Johnson Sirleaf, the Human Right Activists Ms. Leymah Gbowee from Liberia and Ms. Tawakkol Karman from Yemen "for their non-violent struggle for the safety of women and for women's rights to full participation in peace-building work".
Madam Ellen Johnson Sirleaf was recently re-elected president of Liberia.
I visited Liberia in November one week after Johnson Sirleaf's re-election was confirmed and I could still feel the tension in Monrovia, where groups of young opposition supporters were parading in the streets.
The Center for Transparency and Accountability in Liberia (CENTAL) focuses on working with young men and women in the fight against corruption.
In the fight against corruption in Liberia, the young people share a common goal with their president who has demonstrated the will to promote "zero-tolerance to corruption" politics. Unfortunately however, many people feel excluded from the planning and monitoring of local development budgets and the decision making on the implementation of local development projects. The youth are particularly vulnerable to such exclusion.
To combat this, CENTAL involves young people in a variety of public integrity projects.
By facilitating access to information, the "Citizens Right To Know" project empowers people to demand accountability and transparency from their leaders. Working together with CENTAL's local Integrity Clubs, comprised mainly of young people, CENTAL is helping to increase participatory governance.
CENTAL organised a budget literacy training workshop at the sub-national level for the Young Men Christian Association of Liberia (YMCA-Liberia). Advocacy work was quick to follow. The participants identified serious errors in the 2009-2010 budget performance report on their county, Bong, and took up these issues with local officials and parliamentarians. The officials listened to their concerns, and took them into consideration during subsequent budgeting and planning.
CENTAL's "Poverty and Corruption in Liberia" project engages young people in poverty forums and participatory video to support them advocate for responsiveness to their needs and inclusion in local and national governance processes.

The project is described in a recent edition of Participatory Learning and Action (PLA 64), "Young citizens: Youth and Participatory Governance in Africa".
Young people in Africa are a major force, and not only in terms of numbers. They represent their communities and know their issues and concerns. All too often, young people in Africa encounter corruption early through the education services.  Governments and civil society in Africa need to work with young people to provide space for them to speak up, to curtail their marginalisation through corruption, and to support their natural awareness that corruption is not correct and not a win-win situation. African leaders need to listen and respond to the youth because they are the voice of the present and the future. It is their time to be heard.