The Indian government recently decided to spend $11 billion  to purchase Rafale fighter jets from Dassault Aviation. The deal includes a commitment from the company to spend $6 billion in the country– a typical "offset" contract that often accompanies defence sales and can be spent on projects ranging from direct technology transfer to those unrelated to the defence procurement such as building roads.
Since governments and companies negotiate these contracts behind closed doors, our concern about secrecy in the offset contracts is twofold:
bribes can be concealed within the offset, which can sometimes be bigger than the original defence contract; and
there is no public scrutiny: is the arms purchase and "offset" investment a fair price, or if it is even providing a needed service?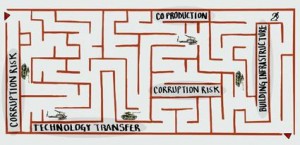 Secrecy also makes it is impossible for the public to monitor whether the companies actually carry out the investments they promise over the course of the contract.
It is not just the taxpayer who should be worried by secrecy in defence contracts. At a time of record-breaking fines for defence corruption under the Foreign Corrupt Practices Act, more and more companies can find themselves facing legal action, fines and even jail time if they do not keep bribery out of their global organisation.
So are companies doing enough to prevent bribery? Not according to a report we launched today.
The report examines current due diligence practices in offset programmes by defence companies and brokers.
However, despite reaching out constructively to 150 defence companies—and with the global offsets industry association GOCA, to their credit, supporting company participation in the study – 123 of the companies did not respond to requests to participate during the course of our research.
Since it is highly likely that those who responded had better programmes than most, the majority of defence companies and their brokers and sub-contractors have a long way to go to move beyond a 'box-ticking' mindset. Companies can no longer conduct superficial due diligence which is solely designed to protect the corporation and does not address the real issues.
The substantial variation in due diligence practice across the defence industry compounds the problem and makes defence companies and governments more vulnerable to corruption risk.
On the plus side, some defence companies have thorough and well-founded offset due diligence programmes.
The best performing companies thoroughly followed up on 'red flags' during the due diligence process –  for example when the adviser represents a company with a questionable reputation or the adviser has no significant business presence in the territory – to ensure third parties were clean.
These good practices can and should be picked up and copied rapidly by the rest of the industry.
As the Indian government and Dassault, for example, finalise their agreement, both parties should be stringent about applying the highest levels of transparency and accountability to mitigate the large risk for corruption that often comes with these lucrative deals.
Despite an increasing number of alleged corruption cases in offsets contracts over the past decade – such as the sale of submarines to Portugal and Greece by the German Submarine Consortium –  the defence sector demonstrates little awareness of the corruption risk associated with offset contracts.
Offsets are not necessarily wrong, but the defence industry needs to raise its game if it is to argue credibly for their continuation. Greater transparency and accountability in offset programmes requires putting robust policies and procedures in place, and being more energetic in addressing the  'red flags' that are triggered during the due diligence. Companies should incorporate offsets into their main business code of conduct requirements to demonstrate that they are serious about getting offsets right.
Governments also need to be more energetic in demanding higher industry standards. They should promote greater transparency of the offset programmes by requiring defence bids to be made both with and without offset contracts costs. Detailed offset performance reports should be published regularly. They also should issue a standard set of guidelines that all companies are expected to follow when conducting due diligence in offsets.