A year of intense anti-corruption protests has put corruption issues high on the agenda in the world's biggest democracy. While leaders have failed to deliver stronger legislation, a report from TI India shows that state-owned companies have made progress.
In India, it takes over 1000 days to get a contract recognised. No wonder that bribery to speed things up is common. Indeed, one Indian in two pays bribes to get access to public services, according to our surveys. Clearly a corrupt bureaucracy is also a slow bureaucracy.
Public procurement and contracting are particularly at risk to corruption in India and among the most vulnerable sectors to fraud, according to KPMG's India Fraud Survey Report 2010.
Recent scandals such as the telecoms scam (which cost the government an estimated $39 billion in revenue) and corruption allegations surrounding the 2010 Delhi Commonwealth Games show how corrupt public contracting processes cost the public purse.
Indians are especially vulnerable because state-owned companies play a major role in the economy, providing the fuel that powers homes and the management of their transport systems.
Only a quarter of Indians
say
government efforts to fight corruption have been effective.
In India, integrity pacts were launched 5 years ago. Since then, 44 state-owned companies, have adopted and implemented integrity pacts by signing agreements with TI India. Among them are major companies such as Oil and Natural Gas Corporation, Hindustan Petroleum Corporation, Gas Authority of India and the Airports Authority.
Under the pacts, the public bodies and all bidders for a public contract commit to refrain from bribery and collusion.
What do Berlin Airport, Mombasa water company and 44 state-owned Indian companies have in common? Integrity Pacts. Read more about them
here
.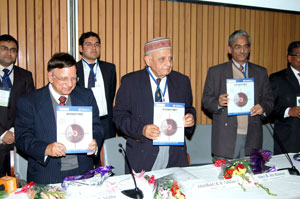 On January 16, TI India released its first assessment report on the implementation of Integrity Pacts in the participating companies, along with the Central Vigilance Commission, an autonomous governmental body that addresses public sector corruption.
The report found that 95% of the participating state-owned companies believed that integrity pacts have "helped making procurement processes transparent".
They shared the same experience of other countries: more transparent procurement gets better value for the tax payer.
The Gas Authority of India saved 3610 Million Indian Rupees (70 million $) by submitting two procurement projects to independent external monitors before finalising the tenders.
With progress being made in public companies, the private sector is not a victim of corruption anymore, but instrumental in it, often operating hand-in-glove with public officials to subvert public contracts.
The practice of collusion between the private sector, which does not take part in integrity pacts, and public sector officials is still very much present in the Indian business environment, particularly in the power, mining and oil sector.
Only a stringent law to curb corruption in the private sector and a broader procurement law will tackle this. The government can also take steps to deter private sector corruption, only dealing with those who keep clean, and punishing those who do not. Two firms,  Calcutta Transport Services and Saif Marine, have already been black listed for violation of clauses of the Integrity pact.