The following was written by Gleb Gavrish, Press Officer, and Andre Jvirblis, Head of the Civic Activism Group, at Transparency International Russia.
Under a new law, companies in Russia's mаssive state-owned business sector must now publish rules for purchasing and service contracts, and report all public contracts worth 2500 Euros or more. Transparency International Russia will take advantage of this new openness to track the estimated $100 billion of state sector buying power — an amount equivalent to 10 per cent of Russia's GDP.
The new law is meant to improve transparency and accountability of state-run firms, which have gained a reputation for being closed to public scrutiny, almost inaccessible for many federal and local government departments.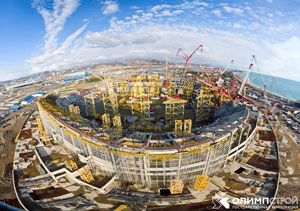 Originally, state corporations were created to carry out strategic tasks free from bureaucracy. But because of flawed legislation, the companies quickly became completely impenetrable, and were allowed to operate without public oversight.
Now, state corporations such as Olympstroy managing the Winter Olympic Games in Sochi, or Rostechnologii, a firm that helps manufacturers with high technology industrial products, have to disclose a significantly greater amount of financial information to the public.
The new reporting requirements could also have political significance since state corporations in Russia are non-profit entities that report to the president and were set up to carry out business considered strategic to the state.
With so much money at stake, increasing transparency is a way to keep tabs on public funds and flag potential problems. For example, more detail on Olympstroy's purchase planning could be an effective tool to stop poor environmental planning. Questions have already been asked about a railroad leading to the Olympic area in the mountains near Sochi. Had there been more public control on the procurement process, environmental concerns could have been raised earlier and damage avoided.
TI Russia first got involved in state procurement in 2009 when we examined buying patterns at the state atomic energy corporation Rosatom. In the company's dealings with civil nuclear companies, nuclear energy research facilities and nuclear weapons, our experts found high risks of corruption in Rosatom's placing of orders and provided a detailed recommendations to the corporation's leadership.
After a thorough re-examination of Rosatom by TI-Russia in 2011, the company showed major improvements. However, many corporations seem to still be unaware of the disclosure principle, and continue to hide their purchases and operations.
We now plan to take the same approach with Olympstrov, Rotechnolgii ,Vnesheconombank and other state corporations. TI-Russia has sent letters of inquiry to the public prosecutors at the beginning of February, based on the new law. Opening up the ledgers on state-owned companies will be a top priority for us in 2012 and beyond. We'll keep you posted on our progress. Transparency is the best weapon in the fight against corruption.