"The action went surprisingly well. It showed the importance of public control over police. Many of us were afraid it would all end with detentions or beatings, but we managed to avoid violence. The most important thing we achieved is that the majority of Moscow cops started wearing their badges. We can repeat the action if for some reason they start to take them off again".
Ivan Ninenko, Transparency International Russia
Badge Checking Day went off throughout the country on April 22. Journalists, civic activists and TI Russia employees checked if police officers in more than ten Russian cities have badges on their uniforms. According to Russia's new police law, which came into effect on 1th of March 2011, all policemen on duty have to wear these badges. They strip away the anonymity of cops, and could help the citizen to avoid ill-treatment.
It is common for police, once de-anonymized, to immediatley start treating people in a right and legal way. Sometimes they even give up altogether and leave them alone" – said Ivan Ninenko, deputy director of Transparency International Russia.
This law appeared after our public campaign "Five simple amendments for the Police law with the Youth human rights movement. The campaign got the highest rank after the public discussion on the web and three amendments – on the badge, hotline and right to call – was implemented in the law. However, the law is in force for more than a year, and the vast majority of Russian police officers are not wearing the badges.
Badge Checking Day was initiated by Ivan Ninenko and the journalist Alexander Burtin of Russkiy Reporter. They decided not only to attract the public's attention, but also draw it to the control over the execution of Russia's police law. All the citizens who have been involved in Badge Checking Day went through the streets of their cities in groups of three to five people searching for policemen without badges. As soon as they had caught one, they tried to find out the cop's name and file a complaint with the Prosecutor's office on a special form we prepared for them.
We made two viral videos to promote Badge Checking Day (first and second) and printed heaps of posters. Organisers prepared a detailed instruction for the participants, filmed a example video of badge checking and made several groups in social media.
The Public Verdict Foundation coordinated the legal support of the action, Youth human rights movement coordinated participants' efforts in the regions – Syktyvkar (Komi republic), Yoshkar-Ola (Mari El republic), Yekaterinburg, Voronezh, Murmansk, Volgodonsk, Lipetsk, Vladimir and Berezovsky.
More than 20 complaints were sent to the Prosecutors in Moscow, but the participants say they've been expecting much more violations.
 "We are so happy with the results, but we definitely would not have expected them. Let's hope that all regions will catch up with Moscow, and all our citizens will start checking badges. It also means that policemen themselves can stop worrying about the anonymous villains who spoil the police's reputation, their crime fighting statistics and authority. I greatly appreciate our fellow citizens and all the cops who put on their badges and treated us in a right and legal way".
Sofia Drobinskaya, lawyer at TI Russia
Unfortunately, not all the policemen approached were polite and correct. In some cities they tried to avoid the participants of Badge Checking Day or refused to introduce themselves, even after being reminded that it is not the question of their will but the norm of the law.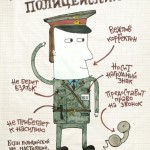 Transparency International Russia began their campaign for police accountability with an awareness raising campaign about the duties of a police officer. Read more
here
Badge Checking Day attracted a great deal of media attention. TI Russia's Sofia Drobinskaya reported from the streets of Moscow on the website of Russkiy Reporter, there were dozens of articles, photo and video reports in NovayaGazeta, Vedomosti, KomsomolskayaPravda, Lenta.ru and many others.
Now, a month after Badge Checking Day, a group of activists are going to carry out systematic public checks over the police forces. They plan to arrange a Badge Checking Day every month, and seek for strong punishment for policemen who hide their badges, as well as publish FAQ's and leaflets about the problem. We're going to keep you informed on that story.
See more photos here and another video of the event here.