Compared to the EU's 2011 budget of around 140 billion Euros, 2 million Euros (that's 0.0014286% of 140 billion Euros) doesn't sound like much.  However, a fight – which is expected to come to a head this week – between the European Parliament and the European Commission over this relatively small sum of money may result in substantial changes in terms of transparency in a little-known (at least outside EU-circles) element of EU-decision making; 'expert groups'.
Later this week the European Parliament is expected to vote on whether it believes the Commission is serious enough about increasing the transparency and integrity of its expert groups following a decision taken late in 2011 to freeze a part (2 million Euro) of the Commission's budget reserve for the management of these groups.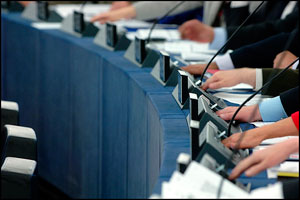 The funds can only be 'unfrozen' once the Parliamentarians are satisfied and their conditions (there are several of them) have been met. It was recently reported that there are still some outstanding issues and one MEP is quoted as stating that the funds will stay blocked if they do not get what they want.
Quite rightly, the Commission runs a variety of expert groups which provide expertise to enrich the drafting of legislation or act as a sounding-board on various expert issues. Without a doubt, the expert groups provide much needed technical information, in particular when you consider the breadth of the policy areas that EU staff deal with.
To ensure that the expertise comes from different perspectives, balanced representation in the groups is essential. It is of concern that there are quite a number of groups whose members are predominantly from one side only. For example see here for a recent report looking at the expert groups of one single 'DG' (equivalent of a national ministry) which is highly critical on the (im)balance between business interests and the interests of 'broader society' represented in the groups.
In 2011, we blogged about the dominance the banking industry had on the European regulators in the run-up to the financial meltdown via the Commission's expert groups. A Transparency International representative was at one such meeting and out of the 40 members present he counted only a handful who did not directly represent the interests of the banking community.
Expert groups are a legitimate part of the democratic process of government. The question that Transparency International asks is why did it have to take the freezing of its budget to press the European Commission to act? However, as a tactic used by transparency campaigners it reminds me of a quote by Voltaire: 'When it is a question of money, everybody is of the same religion'.