With countries under pressure to create growth and jobs, especially for the young generation just entering the job market, dealing effectively with corruption is not only an ethical imperative; it is an imperative for the well-being of the economy and society.
Elaine Dezenski, Senior Director and Head, Partnering Against Corruption Initiative, World Economic Forum, explores the business case for fighting corruption.
When the World Economic Forum recently asked business leaders in more than 144 countries what the most problematic factors are for doing business in emerging markets, this is what they said: in Russia, business leaders said corruption is the single biggest economic problem.  In India, corruption is the second biggest problem for long-term prosperity. In China and South Africa, corruption is the fifth biggest hurdle to growth and prosperity. That means that China, as the most competitive of the BRICS emerging markets, and Africa's most productive economy are massively held back by corruption. Imagine what these and other societies could achieve if only they could effectively tackle this challenge.
And the public in these countries is demanding more decisive action. Widespread discontent with corrupt practices in many forms has increased, arguably reaching a tipping point in certain countries, contributing to regime changes and paralysing governments that have to deal with successive corruption scandals. This momentum should be leveraged fully to bring about game-changing action. But it requires coordinated and decisive action among leaders from all sectors.
The good news is that business understands its own role in this fight. In its most recent survey of business people, Transparency International reports that nearly 80 per cent of respondents from businesses around the world believe that their companies have an ethical responsibility to fight corruption.
A deeper dive in the data reveals a more complicated but nonetheless interesting picture. For example, we can see divergent views across the BRICS group of emerging markets. Of those responding from Brazil, 98 per cent agree with the ethical imperative of businesses to fight corruption, compared to 71 per cent from India to a low of 45 per cent of respondents from Russia.
Never before has corruption, transparency and a level playing field been so strategically crucial for business. Taking a leadership role is not just a matter of ensuring organisational compliance for business; it is a strategic imperative for every CEO.
As global businesses have been looking increasingly to emerging markets for a higher proportion of their revenue and investments, they have realized that standards of transparency and rule of law, and anti-corruption policy and regulation vary widely across these markets. When the same playing field does not apply to all competitors, those that play by the rules are likely to be punished for it.
Moreover, corporate boards around the world can no longer claim "plausible deniability" and are increasingly being held accountable when corrupt practices are revealed.
But no one would argue that achieving transparency across global operations has become any easier. The complex global business environment often means that headquarters does not have a full view of operations in remote locations. Just think about the complexity of supply chains and the risks they face.
And it is hard to argue that global efforts have substantially stemmed the tide of corrupt practices. The way we have done business for many years has contributed to the current environment. Some legal regimes are changing, but cultures need to change, too, and some global businesses are sharing that experience of changing cultures and changing business.
There is good evidence that business cultures are in fact shifting in the right direction. Seventy-five per cent of those surveyed by Transparency International indicate they would get involved in their organisation's fight against corruption, so CEOs need not fear they are acting alone.
Established in 2004, the World Economic Forum's Partnering Against Corruption Initiative (PACI), comprised of more than 100 private sector organisations from around the world, is supporting a strategic business dialogue that links anti-corruption and establishing a transparent environment for businesses as a strategic imperative to achieving growth, competitiveness and risk resilience.
Global agenda setting is just one aspect of the engagement. PACI also offers a neutral space to link high-level business-government dialogue to game-changing initiatives at the regional and country level.
Pervasive, entrenched corruption is one of the World Economic Forum's top 50 global risks. In the Global Risks 2011 report, the global risks of corruption, organised crime and illicit trade comprised one of three major risk "cases" that require greater attention and action from both business and government leaders.
Corruption is now recognised as one of the key barriers to continued economic growth. PACI will focus on connecting its members with governments from emerging markets, linking the business anti-corruption platform to improved competitiveness, risk resilience, economic growth and opportunity. And, ideally, to your next job.
More results from Transparency International's 'Putting Corruption Out of Business' survey
Today, Transparency International released the findings from two more questions in its ongoing 'Putting Corruption Out of Business' survey. The first focuses on business people's views of their company's duty to combat corruption. The graphic below shows a selection of the results from around the world. For full details, view our interactive graphics.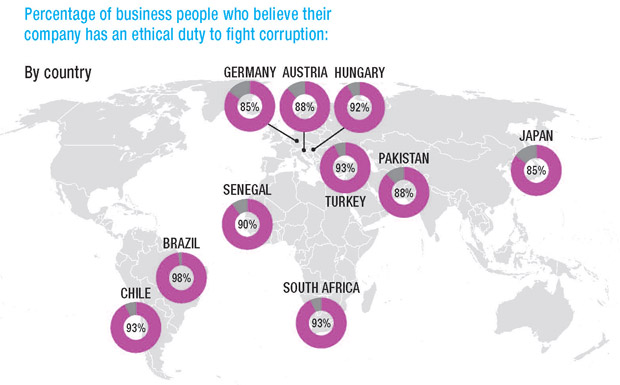 With almost four out of every five business people surveyed believing that their company has an ethical duty to fight corruption (see Question 3 of our survey), we also wanted to know what these business people felt their role was as employees and individuals. The results are encouraging (see Question 4). Eighty-seven per cent of business people surveyed would support their colleagues or friends if they fought against corruption and three quarters of respondents could imagine themselves getting involved personally. The same proportion of respondents would report an incident of corruption. Again, the results vary by country surveyed, but in all countries, the majority of business people clearly felt that they have a personal role to play in the fight against corruption.
The country-by-country results are shown in the table below, but you can also dig into more of the results using our interactive graphics.
| | I would support my colleagues if they fought against corruption | I can imagine myself getting involved in the fight against corruption | I would report an incident |
| --- | --- | --- | --- |
| Argentina | 83% | 63% | 60% |
| Austria | 91% | 75% | 74% |
| Brazil | 96% | 77% | 50% |
| Chile | 99% | 85% | 88% |
| China | 72% | 63% | 62% |
| Czech Republic | 92% | 76% | 68% |
| Egypt | 60% | 73% | 61% |
| France | 92% | 75% | 61% |
| Germany | 95% | 78% | 86% |
| Ghana | 70% | 61% | 58% |
| Hong Kong | 81% | 67% | 81% |
| Hungary | 88% | 78% | 65% |
| India | 78% | 70% | 82% |
| Indonesia | 90% | 75% | 77% |
| Japan | 82% | 74% | 61% |
| Malaysia | 69% | 62% | 74% |
| Mexico | 80% | 73% | 75% |
| Morocco | 88% | 84% | 53% |
| Nigeria | 93% | 86% | 87% |
| Pakistan | 92% | 88% | 73% |
| Philippines | 94% | 80% | 85% |
| Poland | 95% | 77% | 77% |
| Russia | 83% | 64% | 52% |
| Senegal | 89% | 82% | 84% |
| Singapore | 88% | 76% | 86% |
| South Africa | 96% | 83% | 96% |
| South Korea | 93% | 83% | 85% |
| Turkey | 94% | 86% | 90% |
| USA | 83% | 63% | 82% |
| United Kingdom | 93% | 62% | 91% |