You might have seen Portugal on the news recently. Just over a week ago, an estimated million people (in a country of roughly 10 million) took to the streets protesting new austerity measures announced by Prime Minister Pedro Passos Coelho. Talk of instability in the governing coalition amid increased public anger damaged the country's reputation as the well-behaved "good pupil" of bailed-out economies in the Eurozone. Coincidentally, the new round of austerity measures that set people off was announced on the same day we at TIAC, Transparency International's national contact in Portugal, finished a weeklong course on the failings of our National Integrity System (NIS).
Corruption, no doubt, has helped fuel Portugal's spiral of deficit and debt. That's why our NIS survey, conducted in parallel with 24 other European countries, came at just the right time: now, finally, the country has a thorough diagnosis of the failings of 13 national institutions in the fight against corruption – and a blueprint for fixing the loopholes, gaps and frailties that are still keeping us from cleaning house.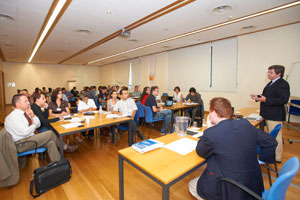 So maybe it should have come as no surprise to find that our summer course, based on the findings of the study, was packed with more than 40 students (although it had initially been designed for a small class of roughly 25), with lots more being unable to join us for lack of vacancy.
It were intense five days, in a program packed with some 20 guest lecturers who covered just about everything from conflicts of interest in the parliament and government to lack of transparency in party financing, holes in the auditing of public accounts or in the effectiveness of the judicial system. There was even time to explore issues of corruption in local government and the private sector and discuss how investigative journalism and civil society can play a bigger role in monitoring transparency and anti-corruption efforts.
The course was an opportunity for citizens – graduate students, public sector officials, small businessmen, lawyers, teachers, engineers – to confront the failings of the system, debate those responsible and test new ideas. For me, personally, that was the most inspiring result of our week's work: more than the actionable knowledge our class came away with, what made it worth-while were the awkward, demanding questions they directed at everyone, including TIAC members and volunteers – how can TIAC (and, on a global level, TI) help the most, work better, accomplish more? How can citizens' voices be heard, how can we speak up louder, or clearer?
I hadn't (still haven't) the answers to all these questions. I just know that no matter how much we recognize the need for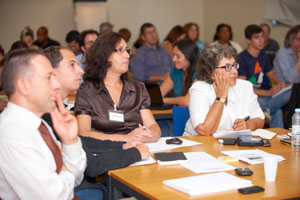 governments and corporations to step up, we also need ordinary citizens to put pressure on our leaders, to stand up and be counted in this fight for our future.
So, as Prime Minister Passos Coelho was announcing another round of tax hikes and austerity measures, we were handling new membership applications and volunteers ready and willing to help out. In a country where so often people find themselves dispirited and hopeless, and so many feel corruption is an unbreakable system maintained by powerful people, somehow hovering high above the rest of us, it's nice to be reminded that integrity still has a purpose, and a power, in today's world. It's still needed and valued, and we can use every bit of it, from every citizen willing to step up.
Not a bad lesson for a week's work.