Largely under the public radar, the last decade has seen a legal revolution in the United States in the area of corporate freedom of speech.
Although a hodgepodge of 57 laws protecting corporate and government whistleblowers remains, 11 private sector laws passed since the turn of the millennium have established consistent principles for a modern law of dissent. For the first time, US corporate employees have a fair chance to defend themselves legally when they defend the public. While the new paradigm may be an obstacle for corporate lawyers, it is an exciting opportunity for corporations.
The breakthrough began in 2002 with the Sarbanes-Oxley Act ("SOX"), which protects shareholders of publicly traded corporations from unscrupulous managers who risk investments through illegal means. It has since spread to 10 other laws covering the vast majority of the economy – all retail commerce, plus the financial, transportation, health care, contractor, nuclear and food industries.
These new laws consistently protect workers who publicly or privately challenge wrongdoing; provide recourse through fair rules of play with realistic legal burdens of proof; offer jury trials if there is no speedy administrative decision; provide compensatory damages to make reprisal victims whole; and shield against gag orders or the waiver of legal rights that many firms require as a job prerequisite.
The potential public benefits of these new whistleblower provisions are staggering.
Even without rights, courageous whistleblowers have forced the withdrawal of dangerous prescription drugs such as Vioxx; shut down toxic incinerators burning dioxin, arsenic and other poisons next to churches and schoolyards; prevented countless food poisoning epidemics at the hands of a deregulated government inspection regime; and abated nuclear power plant accidents and massive releases of radiation into urban water supplies.
The stakes are equally high for corporations. Consider Enron attorney Sherron Watkins' warning to CEO Ken Lay that the company would go bankrupt if it did not stop cooking the books. Lay ordered her terminated. Enron subsequently went bankrupt, and Lay died in disgrace before going to jail.
Some corporate leaders fear that whistleblower rights mean more public scandals. But employees overwhelmingly choose to speak out within the system. An Ethics Resource Center survey found that 96 per cent of whistleblowers first make their disclosures within the company, instead of breaking ranks. Despite the risk of retaliation, workplace loyalty and trust runs deep.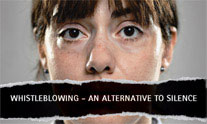 Read more
about Transparency International's work on whistleblowing.
These employees are a wise executive's best resource. Whistleblowers can prevent unnecessary tragedies that blindside managers when it is too late for anything except damage control and scapegoating. Consider the repeated warnings of BP whistleblowers, which could have prevented the Gulf Oil spill but went unheeded.
A PricewaterhouseCoopers survey of 5,400 companies in 40 countries found that 40 per cent were victimised by serious economic crimes averaging over $3 million in losses. Whistleblowers exposed 43 per cent – more than corporate security, internal audits and law enforcement combined. The Association of Certified Fraud Examiners has reported analogous conclusions.
A corporate cultural revolution needs to join the legal one, with business leaders accepting and taking advantage of whistleblowers' new rights. The free flow of information is the lifeblood of any organisation. More than ever, companies that retaliate are likely to lose, and will continue to waste their most significant dormant resource – the labour force. It is bad business to silence the messenger.
More results from Transparency International's recent business survey released
Today, Transparency International released the findings from another question in its ongoing 'Putting Corruption Out of Business' survey series. We asked 3,000 business executives in 30 countries about the types of measures their companies have in place to prevent corruption. The country-by-country results are in the table below, but you can also delve into the details for two measures – whistleblower protections and a ban on facilitation payments – in our interactive graphic here.
We asked, 'Does your company have in place the following anti-corruption measures?' Below are the percentages of respondents who said yes.
| | Have a code of ethics | Have an anti- corruption policy | Conduct regular staff training on anti- corruption | Include corruption in its risk manage- ment strategy | Have measures in place to support potential whistle- blowers | Prohibit facili- tation payments |
| --- | --- | --- | --- | --- | --- | --- |
| Argentina | 77% | 49% | 25% | 56% | 32% | 79% |
| Austria | 55% | 39% | 30% | 49% | 23% | 89% |
| Brazil | 73% | 46% | 37% | 56% | 34% | 85% |
| Chile | 71% | 49% | 18% | 59% | 21% | 80% |
| China | 96% | 70% | 67% | 78% | 75% | 66% |
| Czech Republic | 46% | 36% | 16% | 29% | 10% | 36% |
| Egypt | 55% | 37% | 25% | 33% | 47% | 39% |
| France | 64% | 50% | 29% | 33% | 26% | 82% |
| Germany | 58% | 26% | 18% | 55% | 17% | 90% |
| Ghana | 86% | 63% | 49% | 64% | 55% | 64% |
| Hong Kong | 74% | 55% | 46% | 56% | 57% | 54% |
| Hungary | 33% | 34% | 18% | 35% | 11% | 63% |
| India | 89% | 36% | 28% | 57% | 38% | 91% |
| Indonesia | 94% | 65% | 25% | 67% | 63% | 55% |
| Japan | 72% | 48% | 25% | 40% | 38% | 72% |
| Malaysia | 88% | 51% | 25% | 64% | 63% | 72% |
| Mexico | 86% | 48% | 36% | 57% | 24% | 58% |
| Morocco | 62% | 52% | 35% | 40% | 43% | 52% |
| Nigeria | 99% | 82% | 69% | 68% | 66% | 62% |
| Pakistan | 94% | 80% | 61% | 80% | 82% | 84% |
| Philippines | 96% | 80% | 51% | 72% | 62% | 74% |
| Poland | 28% | 27% | 14% | 42% | 17% | 69% |
| Russia | 57% | 18% | 13% | 37% | 17% | 69% |
| Senegal | 82% | 57% | 34% | 52% | 40% | 85% |
| Singapore | 78% | 55% | 41% | 57% | 69% | 66% |
| South Africa | 87% | 68% | 42% | 62% | 67% | 50% |
| South Korea | 82% | 55% | 44% | 46% | 32% | 37% |
| Turkey | 78% | 68% | 50% | 54% | 46% | 77% |
| USA | 83% | 58% | 31% | 38% | 55% | 68% |
| United Kingdom | 68% | 47% | 26% | 42% | 58% | 66% |
Carousel image credit: Alex E. Proimos