October 12 will see the announcement of this year's Latin American Investigative Journalism Award, awarded jointly by Transparency International and Instituto Prensa y Sociedad (Press and Society Institute).The prize honours outstanding journalism in Latin America or Caribbean media contributing to greater transparency. As we await the results, Catalina Vazquez takes a look back at the winner of last year's award.
On the evening of June 9 2010, the people of the Southern Brazilian state Parana took to the streets. 30,000 residents stood in the cold air that night in protests that covered 15 cities. Some held signs calling for greater transparency, others waved state flags and chanted to the music of a local band. Some were dressed in costume, others sang the national anthem.  With the noise of the protesters behind him, one student demonstrator told a reporter "[This day] will truly be a milestone to start changing the history of Parana."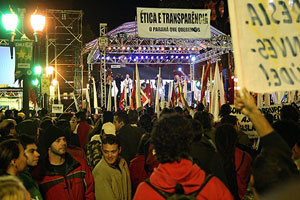 They were demonstrating in response to the Diarios Secretos, or Secret Diaries, a ground-breaking investigative journalism project led by four Brazilian journalists – James Alberti, Katia Brembatti, Karlos Kohlbach and Gabriel Tabatcheik – that led to the biggest-ever scandal at Parana's legislative assembly.
For two years the team of journalists had been investigating and compiling data on assembly spending. Combing through more than 750 assembly memos, they analysed and compiled all registries in the assembly's payroll, painstakingly recording more than 15,000 lines of data. Once complete, they published their reports on Brazilian news networks.
What the journalists reported drove thousands onto the streets to call for justice. From deceased employees on the active payroll, to "ghost employees" hired to receive a salary they later transferred to their employer, the journalists claimed that millions of dollars were being systematically rerouted from public funds into private bank accounts.
The reports quickly sparked major action from the state powers. Directors that were implicated in the scandal lost their jobs, and criminal investigations were opened. The assembly introduced greater oversight on hirings and made it easier for citizens to access public information. According to the journalists, the number of employees at the assembly ultimately dropped by more than 1,000. They estimate that these changes could be saving the state as much as US$5 million each month.
Together with the Instituto Prensa y Sociedad (Press and Society Institute), Transparency International awarded the four Brazilian journalists the 2011 Latin American Investigative Journalism Award in recognition of their vital contribution to transparency and justice in Parana.
This year's ceremony will take place tomorrow, October 12, in Bogota, recognising the achievement of other journalists who – like those behind the Secret Diary series – act as a vital check on the abuse of power.  We look forward to sharing their stories with you.