What comes to your mind when you hear the word hacker? Most of us think hackers are hacking computer security systems to steal important and confidential information. It is only partially true, since there are hackers who contribute real solutions to social problems such as corruption.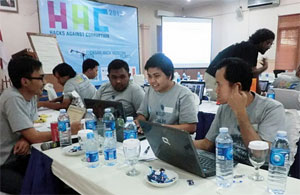 When we asked participants of the global Transparency International hackathon that took place on the first weekend of October who considered themselves a hacker, many raised their hands, explaining that they did not see "hacker" as a bad word, and that their role is often misunderstood.
One said, "Wikileaks is a collection of hackers who disclose hidden information to the public. It helps people to have access to better information."
Responding to the "problem statements" presented by seven participants, our friendly hackers were extremely excited to contribute their skills to provide a technological platform that would address corruption problems. He hopes it will rectify public misperceptions about hackers.
The hackers know better than anyone that for social media to help fight corruption, we need to create additional applications that people can use to communicate with each other directly. Twitter has already served as a powerful communication tool has already happened in Egypt.
Teten Masduki, secretary general of Transparency International Indonesia argues that Wikileaks developed as a form of disclosure to dismantle some of the control over information held byelites. "In Indonesia, Facebook and Twitter are a way to curb corruption," he explained.
Teten observes that ministries and state agencies have not provided enough information for the public. They provide very limited basic information. "This has little benefit for the community," he said.
Finland and Iceland, for example, has started crowdsourcing a new law and constitution respectively.
South Asian presence in Jakarta

Programmers, developers, graphic and interface designers and anti-corruption activists joined us in Jakarta from South Korea, Cambodia, Fiji, Indonesia, Malaysia, Sri Lanka, and Vietnam. Participants from Indonesia also came from various areas such as Jakarta, Semarang, Batang, Yogyakarta, Bandung, Bekasi, Balikpapan and Makassar. They submitted 12 "problem statements" – challenges in our daily efforts to fight corruption that we want technology to help with:
TI Indonesia wanted a Corruption Court Decisions Index. This tool is expected to gauge public perception of fairness judgments of national and local level. We crave a site that shows information about the corruption proceedings, a little like our name and shame site for corruption offenders.
Our Malaysian colleagues wanted to enhance their Forest Watch illegal logging site where people can tag areas affected by illegal logging. Likewise, there is a clear demand for a system that can measure the performance of public institutions as well as reporting public services using photos and comments to the local council.
Much of the requests of Transparency International staff to the hackers related to areas they are already working in. Awareness raising is a priority for TI  Sri Lanka, who regularly hold public exhibitions. TI Vietnam, whose recent study showed 30% of people facing bribes in the health sector, concentrated on the assessment of public health services.
An online platform for corruption reporting is also vital for TI South Korea, which the public would be able to access through smartphones, either as victims, witnesses or whistleblowers. Previously, their site has provided anti-corruption education in the form of a quiz.
TI Fiji wanted online campaign tools to engage youth in the fight against corruption and a platform to monitor intimidation, violence and irregularity during elections.
The Hackathon was held in 5 countries simultaneously. Beside Jakarta, Transparency International organised the same event in Moscow (Russia), Bogota (Columbia), Budapest (Hungary), and Vilnius (Lithuania). The activity was streamed worldwide from each location so that participants can exchange reports and share the atmosphere.
The above was adapted from an article written by M.A. Maulidin, Editor of klikmagz.com.