When the Supreme Court in Brazil convicted and sentenced senior politicians for having their hand in the cookie jar – a case universally known as the Mensalão – diverting public resources for their own benefit, we had a notion that now Brazil had functioning institutions. The courts were for almost the first time seen as independent of the political superstructure, able to hand out justice and not cowed by people who believe they were above the law.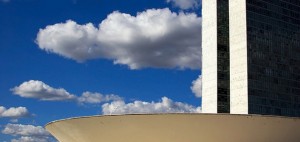 A few months later, however, we are now faced with a situation that is making us wonder whether we haven't taken a serious step backwards. Two well-known politicians that have a history of corruption allegations have been elected behind closed doors to the top jobs in the new Brazilian parliament.
Renan Calheiros is now the president of the Senate again after having been forced to step down from the job in 2007 following a corruption scandal. Henrique Alves was elected head of the house of Representative despite the fact that he is under investigation for embezzlement.
The Brazilian parliament has always been home to notorious criminals, protected by parliamentary immunity among other things. The same is true in state legislatures across the country. That was why it was so important last year when Brazil passed the Ficha Limpa – Clean Sheet – law that makes it illegal for those convicted of a crime by what is known as a collegiate judge to stand for public office. Ironically it was a year ago this week that the Supreme Court approved the law's constitutionality.
But the optimism following the Mensalão convictions appears to be spurring Brazilians to act. At the beginning of this month, shortly after Calheiros was elected president of the Senate, an online petition on the Avaaz.org website called for Congress to impeach Calheiros. It set a target of 1.3 million signatures – 1 per cent of the Brazilian population – because under the law if that many people sign a petition it can be debated in Congress. As of this week, the petition has nearly 1.6 million signatures.
Institutional advances in Brazil only come about through public pressure. The Supreme Court changed the history of the country with the Mensalão. Society must unite to ensure the achievements are not lost. Now civil society organisations should unite to follow through on what is clearly the will of the people: to insist that the Avaaz petition is presented to Congress and Calheiros and Alves are removed from their jobs. That would be a ficha limpa.